#LKDForum 2021 - Outcome Book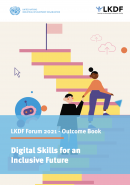 The LKDF Forum 2021 gathered virtually on 22 September, under the theme of Digital Skills for an Inclusive Future, to discuss how cultivating digital skills in the midst of the Fourth Industrial Revolution will lead to a more inclusive future for all. 
As part of the LKDF Forum, UNIDO, in collaboration with the European Training Foundation and WorldSkills International, hosted a virtual hackathon on 23 and 24 September to further the LKDF Forum 2020 edition theme of Green Skills for a Sustainable Future and generate the best green skills solution. 
The Forum was a distinctive opportunity to present a platform for action-oriented debates on potential solutions to reduce the job-skill disparity,bridge the gap in digital skills and to foster future collaborations. 
The LKDF Forum Outcome Book presented the findings and discussions of the officials and statistics on the current and future state of the digital skills levels. Many officials spoke of how the Covid-19 pandemic has exposed the challenges faced by skills development and called on the global community to harness the Fourth Industrial Revolution to achieve a future of inclusive work. Theme Talk Sessions explored the issues that women and disadvantaged groups face in gaining access to digital skills as well as approaches aimed at addressing digital inclusion. The Closing Ceremony featured a call-to-action which emphasised the need to ensure that digital skills training be open and accessible to all, as well as raising the issue of how the international community can help. 
 
Skills intelligence publication details
Target audience
Digital skills for the labour force.
Digital skills for ICT professionals and other digital experts.
Digital skills in education.
Digital skills for all
Digital technology / specialisation
Geographic scope - Country
Austria
Belgium
Bulgaria
Cyprus
Romania
Slovenia
Croatia
Czech republic
Denmark
Estonia
Finland
France
Germany
Greece
Hungary
Italy
Ireland
Malta
Latvia
Lithuania
Luxembourg
Netherlands
Portugal
Poland
Sweden
Spain
Slovakia
Albania
Belarus
Bosnia and Herzegovina
Canada
Iceland
Israel
Japan
Kosovo
Montenegro
Morocco
North Macedonia
Norway
Serbia
Switzerland
South Korea
Russia
Tunisia
Turkey
Ukraine
United Kingdom
USA
Industry - field of education and training
Generic programmes and qualifications not further defined
Geographical sphere
International initiative