Apprenticeship coalitions − experiences and advantages webinar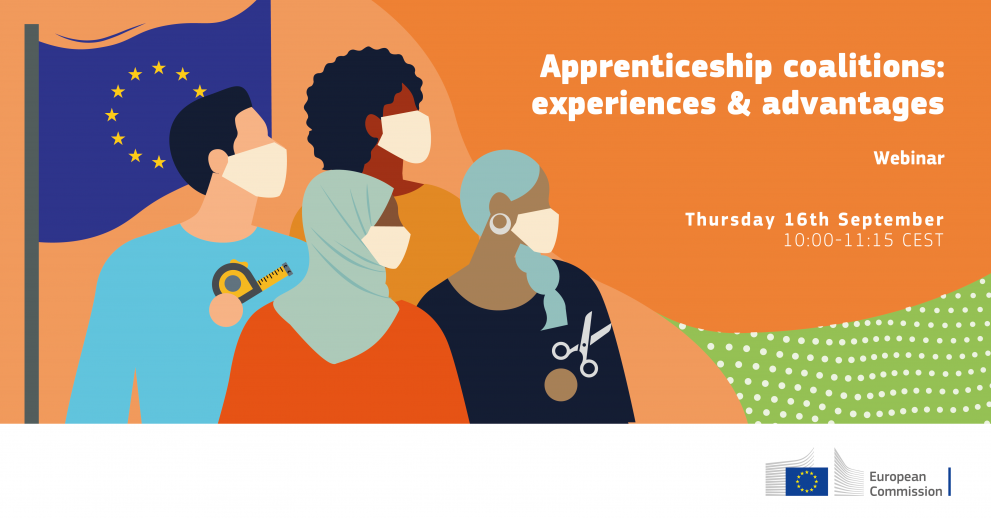 The European Alliance for Apprenticeships (EAfA) is organising a webinar to showcase successful apprenticeship coalitions from Belgium, Denmark and Spain. This webinar comes after the launch of the renewed EAfA in July 2020 by the European Commission. The reinforced alliance calls for new commitments on digital and green apprenticeships to aid the transition to a climate-neutral Europe. As part of this webinar, participants will be able to learn about how various stakeholder groups are involved in apprenticeship coalitions and how this supports apprenticeship programmes and apprentices. Additionally speakers will highlight the main challenges they are facing especially those faced during the COVID-19 pandemic and their strategies to overcome these.
The webinar will be introduced by Tamas Varnai from the European Commission's Directorate General for Employment, Social Affairs and Inclusion. The speakers for this webinar will include:
Carl Lamote, Policy Officer at the Department of Education and Training, Belgium
Guillem Salvans, Senior Project Manager at Fundación Bertelsmann, Spain
Irene Derungs Ollero, Secretary-General for Vocational Education and Training in the region of Galicia, Spain
Torben Schuster, Chief Consultant at the Department for Vocational and Adult Education at the Danish Ministry of Children and Education, Denmark
Participants will have the opportunity to ask questions at the end of the presentations given by the speakers. Registration is required for this event. 
Event Details
Target audience
Digital skills for the labour force.
Digital skills for all
Digital technology / specialisation
Geographic scope - Country
Austria
Belgium
Bulgaria
Cyprus
Romania
Slovenia
Croatia
Czech republic
Denmark
Estonia
Finland
France
Germany
Greece
Hungary
Italy
Ireland
Malta
Latvia
Lithuania
Luxembourg
Netherlands
Portugal
Poland
Sweden
Spain
Slovakia
Industry - field of education and training
Education not elsewhere classified
Type of initiative
EU institutional initiative