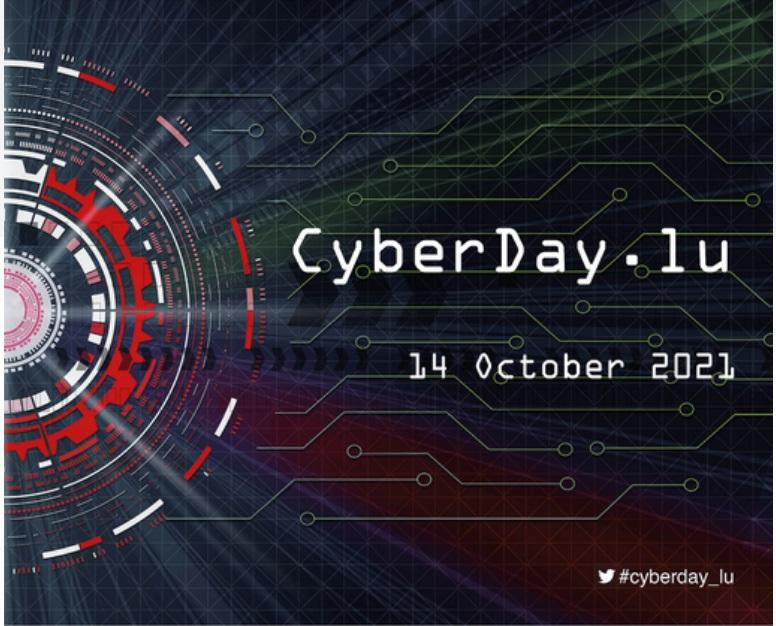 CyberDay.lu is the annual cybersecurity event for people operating in the research or education sector in Luxembourg organized by the Restena Foundation and the University of Luxembourg. It provides useful information on existing actual threats in the world of cybersecurity thanks to speeches and feedbacks from professionals in the field acting on the Luxembourg soil.
CyberDay.lu is the annual event, which is organised in October of each year in the frame of the European Cyber Security Month, the EU's annual awareness campaign. This year's CyberDay.lu is taking place on 14 October.
Event is held online and registration is available HERE.
Full event Agenda:
8.45
Opening of the online event
09.00

KEYNOTE SPEECH
'The networking community (RIPE) and what we do in terms of security'
Mirjam Kühn, RIPE Chair, RIPE

09:20

'Cleaning and Scrubbing at the Internet's Dry Cleaners'
Jo Hoffmann, Restena Foundation

09:35
"Yes, I agree to the terms and conditions – Safer online shopping"
Steve Muller, BEE SECURE
 
10:05
"Hope for the best – Prepare for the worst"
François-Jérôme Daniel, Joany Boutet et Anthony Riccioni, Telindus Luxembourg
 
10:35
"The new training BTS Cybersecurity"
Marc Ludwig, Lycée Guillaume Kroll
 
10:45
"Digital credentials for graduate students at MENJE"
Serge Linckels, Ministry of Education, Children and Youth
 
10:55
BREAK
11:15
Michaël Hamm, Computer Incident Response Center Luxembourg (CIRCL)- SECURITYMADEIN.LU
 
11:45

Session by EU Commission

12:15
"Constituency building via essential services"
Eric Romang, GOVCERT.LU 
 
12:45
"A deception experience with Microsoft Vishing campaign"
Mickaël Le Menach and Eric Chassard, POST Luxembourg
 
1:15

End
@cyberDay.lu
Event Details
Target audience
Digital skills for ICT professionals and other digital experts.
Digital technology / specialisation
Geographic scope - Country
Industry - field of education and training
Information and Communication Technologies (ICTs) not further defined
Geographical sphere
International initiative