Digital Europe Programme 2nd Calls Info Day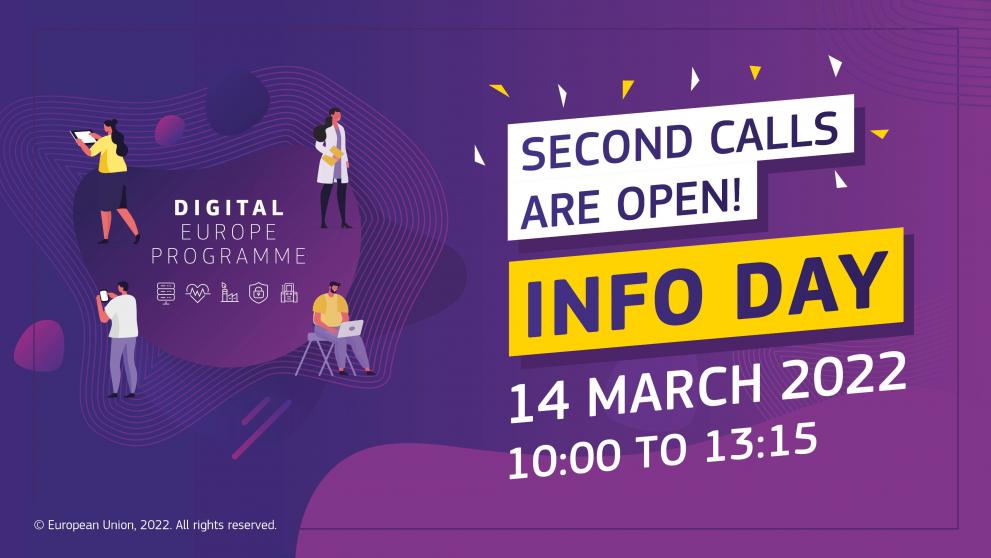 Following the publication of the new calls for proposals under the Digital Europe 2021 and 2022 Work Programme, European Health and Digital Executive Agency (HaDEA) is organising a virtual info session for stakeholders who are interested in the programme and calls. Participants will have the opportunity to learn more about the calls and join a Q&A session. The Info Day will take place on 14 March 2022, 10:00 - 13:15 CET. 
This online information session will provide participants with information on the new calls for proposals under the Digital Europe Programme 2021-2022.Participants will be able to submit questions during the session on slido.com using the event code #DEP2.
About the 2nd wave of Calls for Proposals 
On 22 February 2022 the European Commission opened the 2nd set of calls for proposals of the Digital Europe Programme. The new calls aim to  support concrete actions to help citizens and enterprises benefit from new technologies and thrive in the digital transformation. 
In particular, a new call on Advanced Digital Skills Short term training courses has been launched. The call aims at increasing the offer of high-quality short term trainings for the workforce, allowing them to acquire the skills necessary to deploy key digital technologies in businesses, with a particular focus that enables to meet the needs of SMEs.
The submission of applications for this call is now open and will close on 17 May 2022. You will find more information on how to apply for the call in the Funding & Tender Portal
The info session will be available in live streaming on the European Commission's website. Check out HaDEA's website for further information on the full agenda of the event.
Event Details
Target audience
Digital skills for the labour force.
Digital skills for ICT professionals and other digital experts.
Digital skills in education.
Digital skills for all
Digital technology / specialisation
Geographic scope - Country
Austria
Belgium
Bulgaria
Cyprus
Romania
Slovenia
Croatia
Czech republic
Denmark
Estonia
Finland
France
Germany
Greece
Hungary
Italy
Ireland
Malta
Latvia
Lithuania
Luxembourg
Netherlands
Portugal
Poland
Sweden
Spain
Slovakia
Industry - field of education and training
Generic programmes and qualifications not further defined
Geographical sphere
EU institutional initiative