Digital Skills and Jobs Platform: Community Workshop #1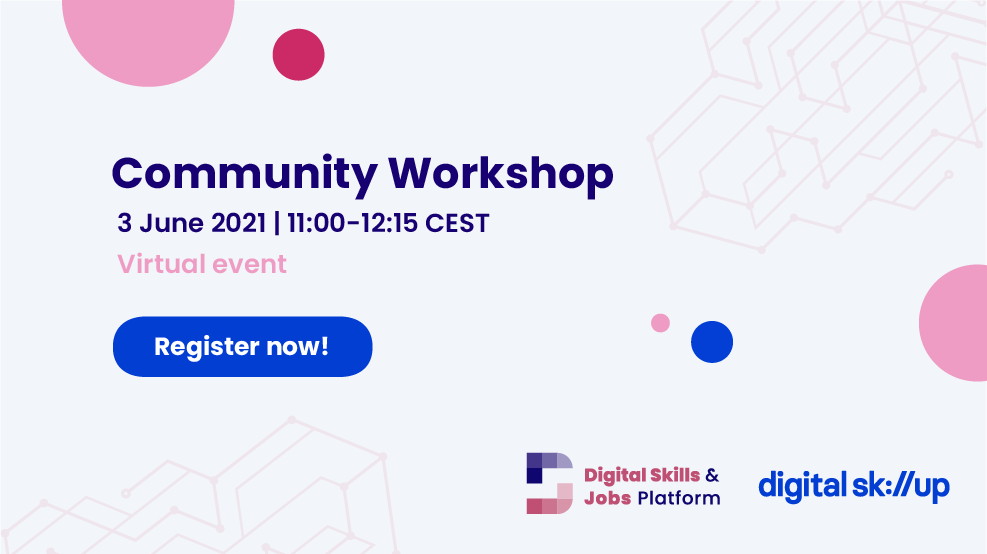 We are delighted to announce the first of our Community Workshops – a series of interactive webinars for the Digital Skills and Jobs Platform's Community Members and guests.
During the interactive sessions, we will showcase how organisations and individuals can use the Platform to share and promote their initiatives and good practices on digital skills with their peers. We will exchange feedback and ideas from the Digital Skills and Jobs Community on how members can work together to develop the Platform's Community section.
We will also take this opportunity to present Digital SkillUp – an initiative that contributes to the Platform's learning pillar and offers innovative and easy-to-follow online courses on emerging technologies.
The Community Workshop follows the Leading the Digital Decade Conference on 1 and 2 June, providing a forum for stakeholders to discuss how they can contribute to the Digital Decade within the Platform's community discussion area.
The Workshop is open to all members of the Digital Skills and Jobs Community and digital skills stakeholders. Places are limited; book yours today!
© Digital Skills and Jobs Platform & Digital SkillUp
Event Details
Target audience
Digital skills for the labour force.
Digital skills for ICT professionals and other digital experts.
Digital skills in education.
Digital skills for all
Digital technology / specialisation
Geographic scope - Country
Austria
Belgium
Bulgaria
Cyprus
Romania
Slovenia
Croatia
Czech republic
Denmark
Estonia
Finland
France
Germany
Greece
Hungary
Italy
Ireland
Malta
Latvia
Lithuania
Luxembourg
Netherlands
Portugal
Poland
Sweden
Spain
Slovakia
Industry - field of education and training
Information and Communication Technologies (ICTs) not further defined
Geographical sphere
EU institutional initiative