EPALE Community Conference 2021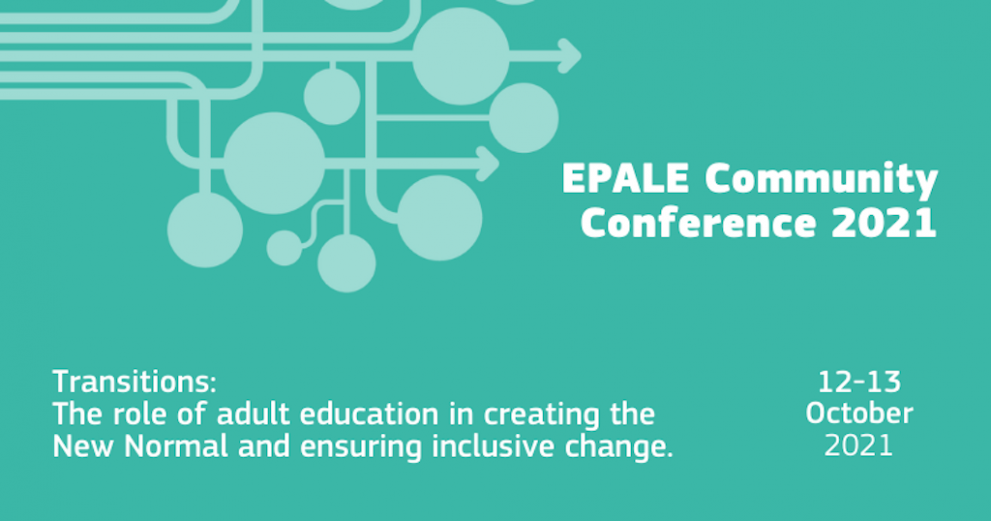 The COVID19 pandemic has highlighted the digital divide as those who were not able to access technology or did not have the relevant digital skills to navigate the online world struggled to stay in touch with loved ones, continue working, and keep up with educational requirements. As Europe starts to look to a post-pandemic world, sustainability, inclusiveness and resilience need to be the cornerstones of society and adult education. As such, the  2021 EPALE Community Conference will focus on how adult education can play a role across multiple levels of transition and how it can ensure that no one is left behind. 
Three themes will feature in the 2021 EPALE Community Conference: digital, green, and demographic transformation. These themes aim to explore how lifelong learning opportunities can be more inclusive and how new and emerging technology can offer solutions and innovations. Additionally, the conference will look at how intergenerational solidarity can be enhanced and how this can support the creation of an open and democratic society. At the heart of each of these themes will always be how adult education can assist these transitions. 
The conference will feature panel discussions, keynote speeches as well as workshops following on from the conference. Participants will be able to explore new insights and network during the workshops. 
© European Commission
Event Details
Target audience
Digital skills for the labour force.
Digital skills in education.
Digital skills for all
Digital technology / specialisation
Geographic scope - Country
Austria
Belgium
Bulgaria
Cyprus
Romania
Slovenia
Croatia
Czech republic
Denmark
Estonia
Finland
France
Germany
Greece
Hungary
Italy
Ireland
Malta
Latvia
Lithuania
Luxembourg
Netherlands
Portugal
Poland
Sweden
Spain
Slovakia
Industry - field of education and training
Education not further defined
Type of initiative
EU institutional initiative