The Future is yours - the skills you need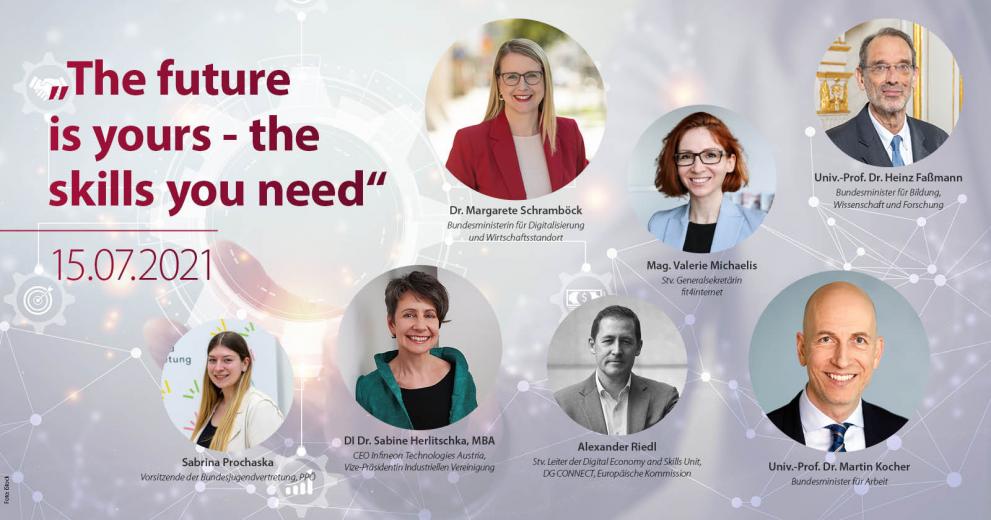 July 15 marks the international World Youth Skills Day - an initiative of the United Nations, which has been running since 2014, aiming to highlight the importance of building up young people's capabilities when it comes to the skills they need for employment, decent work, business, research, and entrepreneurship. Each World Youth Skills Day brings together a variety of stakeholders on EU and international level: young people and students, education institutions and vocational education and training (VET) sector, companies and small and medium enterprises (SMEs), employers and trade unions, policymakers and other stakeholders.
The event 'The Future is yours - the skills you need', hosted by fit4internet and the Austrian Ministry of Digital and Economic Affairs (BMDW), is organised by the Austrian National Coalition (Allianz für Digitale Skills und Berufe) in collaboration with the European Commission. The Austrian Federal Ministry of Labour (BMA) and the Austrian Ministry of Education, Science and Research (BMBWF) will also make valuable contributions to this event. It will take place in the form of a hybrid event, which will be livestreamed on several platforms, as well as on the Facebook page of Digital Skills EU. The aim of the event is to showcase future-oriented skills, i.e. the skills that will increasingly be required especially for young citizens to develop and thrive in a digital world.
The event will also put forward some insights on the new combi-certificate for digital skills in Austria, DigComp-CERT. The new certificate comprises of a mandatory assessment of one's digital knowledge and a recognised proof of the application of digital competence. Up to 600 people took part in the project's initial phase, about 220 people will receive their completion certificates on 15 July 2021. The event will be held in German, from 9:30am to around 12pm. 
Agenda 
09:30 - 09:45    Opening of World Skills Youth Day: Alexander Riedl, Deputy Head of the Digital Economy and Skills Unit at European Commission, DG CONNECT. 
09:45 – 09:55   Impulse Statement 'Skills of tomorrow': Johann Lefenda, Head of Upper Austria Future Academy. 
09:55 - 10:00    Presentation of the pilot project 'Defining a national digital skills certification system for Austria based on DigComp-CERT': Valerie Michaelis, Vice-Secretary General at fit4internet.
10:05 – 10:15   Interview with Minister Margarete Schramböck.
10:15 – 10:35   Apprentices in dialogue with the Minister: Margarete Schramböck, Minister for Digitalisation and Economic Affairs, Oliver Hrebejk, Apprentice at A1 Telekom Austria and Daniela Nowak, Apprentice at Raffeisen Informatik GmBH & CoKG. 
10:35 - 10:50    Interview 'Digital Skills In a European Context': Koen Nomden, Team Leader for Transparency and Recognition of Skills and Qualifications at the European Commission, DG Employment. 
10:50 – 10:55   Intervention from Heinz Faßmann, Minister for Education
10:55 – 11:00   Intervention from Martin Kocher, Minister for Labour
11:00 - 11:15    Panel discussion with: Sabrina Prochaska, Chairwoman of the Federal Youth Council, PPO and Sabine Herlitschka, CEO Infineon Austria. 
11:15 – 11:45   Presentations on 'Skills Trends in Practice': Roland Sommer, Managing Director at Industrie 4.0 – Digital Pioneers, Mario Derntl, General Secretary at Zukunft Lehre, Andrea Bock, Taskforce Leader 'IT, Digitalisation and Media', Ministry of Labour and Sonja Schmöckel, Taskforce leader for 'Integration of young people in the labour market and training', Ministry of Labour
11:45 (end)      Concluding Remarks: Alexander Riedl, Deputy Head of Unit at European Commission, DG Connect. 
Event Details
Target audience
Digital skills for the labour force.
Digital skills in education.
Digital skills for all
Digital technology / specialisation
Geographic scope - Country
Industry - field of education and training
Literacy and numeracy
Information and Communication Technologies (ICTs) not further defined
Computer use
Geographical sphere
National initiative