High-Level Conference on AI: From Ambition to Action
Event location
Brdo Congress Centre, Kranj, Slovenia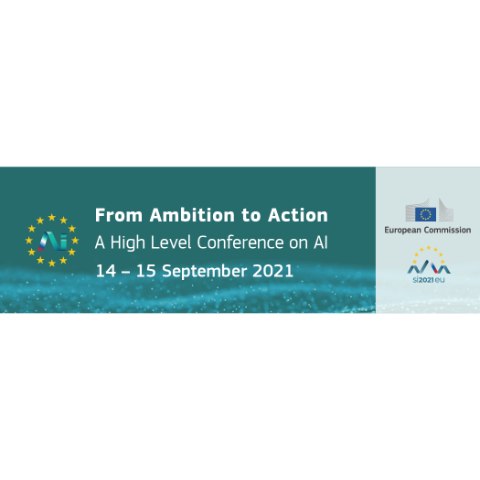 The event follows up on the Proposal for a Regulation laying down harmonised rules on AI and the updated Coordinated Plan on AI, published by the European Commission in April 2021, as well as the previous editions of the European AI Alliance Assembly. The joint efforts of the Slovenian Presidency of the European Council and the European Commission in organising this event mark another important milestone aiming to bring policymaking efforts 'From Ambition to Action' and turn Europe into a global hub of excellence and trust in AI.
The conference will unfold around a number of inspirational speeches, panel discussions and breakout sessions featuring experts and policy makers from EU Member States, third countries, international organisations, academia, civil society as well as business representatives. Each of the 2 days will be introduced at the highest-level by the European Commission's Executive Vice President Margrethe Vestager, Commissioner for Internal Market Thierry Breton. From the side of the Slovenian Presidency, Minister of Public Administration Boštjan Koritnik and Minister for the Digital Transformation Mark Boris Andrijanič will open the event. A full agenda can be found HERE.
The event will take place on 14 and 15 September 2021. It is free of charge, but Registration is necessary.
© European Commission
Event Details
Target audience
Digital skills for the labour force.
Digital skills for ICT professionals and other digital experts.
Digital skills in education.
Digital skills for all
Digital technology / specialisation
Geographic scope - Country
Austria
Belgium
Bulgaria
Cyprus
Romania
Slovenia
Croatia
Czech republic
Denmark
Estonia
Finland
France
Germany
Greece
Hungary
Italy
Ireland
Malta
Latvia
Lithuania
Luxembourg
Netherlands
Portugal
Poland
Sweden
Spain
Slovakia
Industry - field of education and training
Information and Communication Technologies (ICTs) not further defined
Geographical sphere
EU institutional initiative