"How to enhance digital skills of older adults"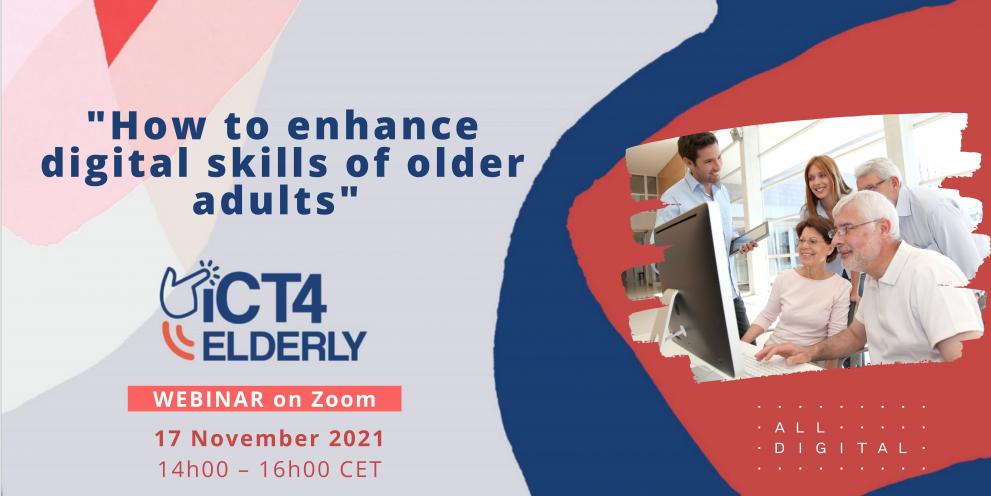 Nowadays, almost all digital technology products and services are designed and produced by younger people, and exclusively marketed for younger consumers. As a consequence, older people are left behind in the digital world - and urgent action is needed to include them. ALL DIGITAL's upcoming webinar on will tackle specifically this age dimension (and its impact on digital skills). 
The upcoming webinar 'How to enhance digital skills of older adults' will take place on 17 November 2021 from 14:00 to 16:00 CET via Zoom. The first part of the event will focus on the topic of digital inclusion of older adults, while the second part will shed more light onto the peer-to-peer learning methodology developed by the project. 
The webinar takes place in the framework of the ICT 4 the Elderly project, which aims to empower older adults (55-74) by providing learning opportunities to improve their digital skills. The participants of the ICT 4 the elderly training then became ambassadors and shared the acquired knowledge with their peers. 
ALL DIGITAL and the ICT4Elderly consortium will present some key findings and policy recommendations, as well as propose answers to the questions on how to enhance digital skills of older adults.
Event programme
14:00  Welcome and opening: Peter Palvolgyi (CEO, ALL DIGITAL)
14:05  Panel debate on ICT skills needed by elderly people and how to enhance them (questions will be taken from the audience)
14:45  Project methodology (online academy, topic, ambassadors): Leonor Afonso, Ynternet.org
15:05  Coffee break
15:15  Implementation: how it was received by the elderly; challenges (including COVID): Fiona Tesi, Tech.mt
15:30  Testimony from a participant (short interview) 
15:40  Policy recommendations: Gabriela Ruseva (ALL DIGITAL) 
15:50  Questions and summing up 
16:00  Closing
Event Details
Digital technology / specialisation
Geographic scope - Country
Austria
Belgium
Bulgaria
Cyprus
Romania
Slovenia
Croatia
Czech republic
Denmark
Estonia
Finland
France
Germany
Greece
Hungary
Italy
Ireland
Malta
Latvia
Lithuania
Luxembourg
Netherlands
Portugal
Poland
Sweden
Spain
Slovakia
Industry - field of education and training
Generic programmes and qualifications not further defined
Literacy and numeracy
Personal skills and development
Care of the elderly and of disabled adults
Geographical sphere
International initiative