Mind the Gap: Empowering Europe through Connectivity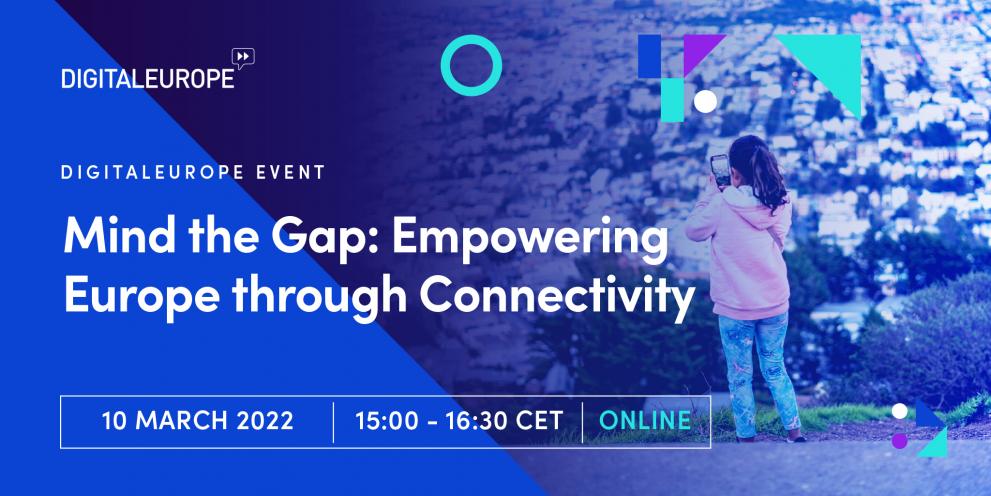 The Covid pandemic has made it evident that digital connectivity is not a luxury. Europe will need a strong, fast, and reliable digital infrastructure as its foundation if digital connectivity is fundamental. DIGITALEUROPE's Mind the Gap: Empowering Europe through Connectivity event will take place on 10 March 2022, 15:00 – 16:30 CET, and will be an online debate about the future of Europe's connectivity. 
The European Commission have placed connectivity at the head of their most recent publication on their digital agenda. The EU 2025 Connectivity objectives seek to have 100 Mbps networks reaching all European households, with the possibility for upgrading the networks for much higher speeds. The Digital Decade 2030 targets foresee all European households will have Gigabit network coverage, and 5G coverage in all populated areas. 
Also being presented on Thursday, DIGITALEUROPE's new paper on the state of connectivity in Europe, outlining the major roadblocks and discussing the conclusions and the key recommendations to overcome them. Following this presentation, an interactive discussion, with remarks from the invited speakers and a longer moderated session, will take place.
For the full list of panellists and the agenda, check out DIGITALEUROPE's website.
 
Event Details
Target audience
Digital skills for the labour force.
Digital skills for ICT professionals and other digital experts.
Digital skills for all
Digital technology / specialisation
Geographic scope - Country
Austria
Belgium
Bulgaria
Cyprus
Romania
Slovenia
Croatia
Czech republic
Denmark
Estonia
Finland
France
Germany
Greece
Hungary
Italy
Ireland
Malta
Latvia
Lithuania
Luxembourg
Netherlands
Portugal
Poland
Sweden
Spain
Slovakia
Industry - field of education and training
Generic programmes and qualifications not further defined
Geographical sphere
International initiative