NVIDIA GTC - the Developer Conference for the Era of AI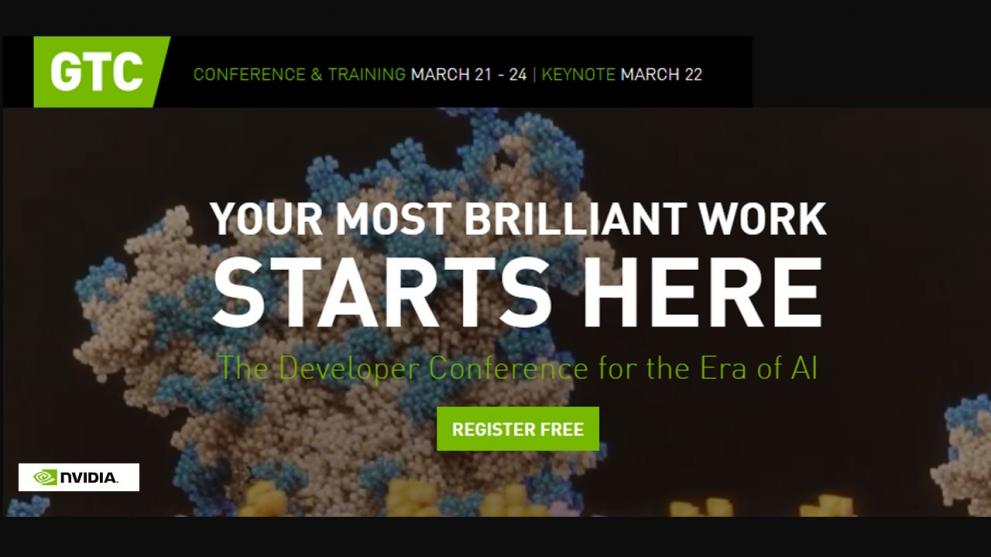 NVIDIA's GTC conference is a conference for developers and experts in artificial intelligence, policymaking and business. 'The Developer Conference for the era of AI', GTC is a 4-day series of workshops, which bring together developers, researchers, creators, those in the ICT sector, and business leaders from all over the world, who share their views on technology's impact, AI trends, and possibilities with other key emerging technologies.
NVIDIA GTC will take place from 21 March to 24 March 2022, online. 
NVIDIA CEO and Founder Jensen Huang's keynote will be available to watch here. Registration isn't required to view the keynote, which will look at the future of computing, and what else is there to come. 
Registration for this March's NVIDIA GTC is free and gives you access to both live and recorded sessions, research posters, interactive panels, demos, podcasts, technical sessions, and more. You have to register for a GTC Conference Pass before adding a Deep Learning Institute (DLI) workshop.
Register for NVIDIA's GTC Conference on their official website. 
Event Details
Target audience
Digital skills for the labour force.
Digital skills for ICT professionals and other digital experts.
Digital technology / specialisation
Geographic scope - Country
Austria
Belgium
Bulgaria
Cyprus
Romania
Slovenia
Croatia
Czech republic
Denmark
Estonia
Finland
France
Germany
Greece
Hungary
Italy
Ireland
Malta
Latvia
Lithuania
Luxembourg
Netherlands
Portugal
Poland
Sweden
Spain
Slovakia
Industry - field of education and training
Business and administration not further defined
Information and Communication Technologies (ICTs) not further defined
Geographical sphere
International initiative