Smart Employees for Smart Cities Conference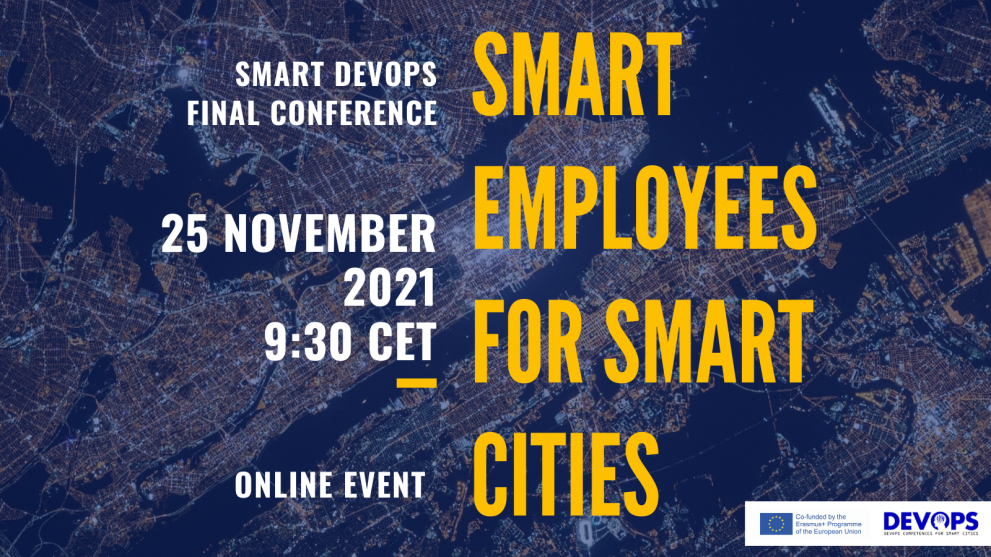 The DevOps competences for Smart Cities (Smart DevOps) project, a Sector Skills Alliance project co-funded by the Erasmus+ programme of the European Union, is organising a final conference as the project comes to a close. The Smart DevOps project focused on the digital and transferable skills gap in municipal workforces and developed a VET curricula that would build a skilled workforce. 
This final conference is an opportunity to discover the project's output, pilot activities results and take part in discussions about the future of skills development in the Smart Cities sector. Key topics for the conference include:
the main transversal and specific competencies for Smart Cities professionals 
3 emerging Smart City job profiles developed during the project
vocational curricula for the job profiles developed
results of an extensive pilot training attended by hundreds of trainees
smart City Body of Knowledge
a growing community of Smart Cities stakeholders
Speakers for this event will be:
Stelina Chatzichristou
Prof. dr. Judith H. Semeijn
Prof Angelika Kokkinaki
Prof Dr Hans Rüdiger Kaufmann
Prof Dr Panos Fitsilis
Peter Palvolgyi
Dr Theodoros Panagiotakopoulos
Vasileios I. Kyriatzis 
Participants to this event include representatives of associations, institutions, and businesses at local, national and European level. Do not miss out on this opportunity to hear about a growing and dynamic sector!
Registration is required for this event and must be done before November 23 2021.
© Smart DevOps 
Event Details
Target audience
Digital skills for the labour force.
Digital technology / specialisation
Geographic scope - Country
Austria
Belgium
Bulgaria
Cyprus
Romania
Slovenia
Croatia
Czech republic
Denmark
Estonia
Finland
France
Germany
Greece
Hungary
Italy
Ireland
Malta
Latvia
Lithuania
Luxembourg
Netherlands
Portugal
Poland
Sweden
Spain
Slovakia
Bosnia and Herzegovina
Iceland
Kosovo
Montenegro
North Macedonia
Norway
Serbia
Switzerland
Ukraine
United Kingdom
Industry - field of education and training
Personal skills and development
Type of initiative
International initiative