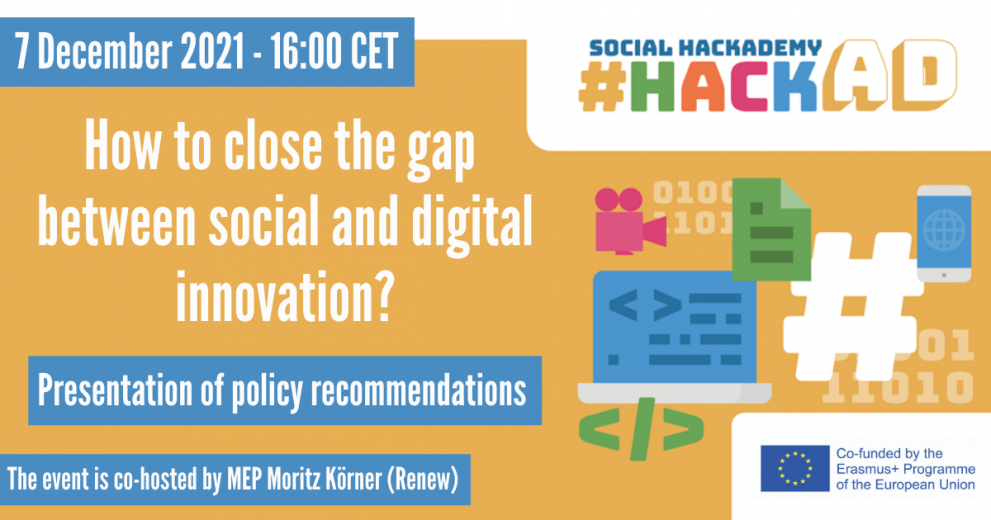 The Social Hackademy project is hosting a final policy event on 7 December from 16:00 to 17:30 CET titled 'How to close the gap between social and digital innovation?' 
The Social Hackademy project fosters digital skills and competencies of young people from disadvantaged backgrounds by through collaborative educational activities based on the Social Hackademy co-creation methodology. 
Policy recommendations have been developed following the analysis of piloting the methodology in four countries (Croatia, France, Greece and Italy) where project partners organised training courses on digital skills and hackathons where young people teamed up with experts from specific fields and developed digital solutions to social challenges.

The event will focus on the impact of the Social Hackademy in Croatia, France, Greece, and Italy and present present policy recommendations targeting policymakers, educators and NGO representatives, providing guidelines on the implementation of Social Hackademy Methodology on local, national and European level.
This webinar is also an opportunity to learn more about the Social Hackademy project - and why not even participate in a mini-hack activity? 

Register for the event here! 

© Social Hackademy
Event Details
Target audience
Digital skills for the labour force.
Digital skills in education.
Digital skills for all
Digital technology / specialisation
Geographic scope - Country
Austria
Belgium
Bulgaria
Cyprus
Romania
Slovenia
Croatia
Czech republic
Denmark
Estonia
Finland
France
Germany
Greece
Hungary
Italy
Ireland
Malta
Latvia
Lithuania
Luxembourg
Netherlands
Portugal
Poland
Sweden
Spain
Slovakia
Belarus
Bosnia and Herzegovina
Iceland
Kosovo
Montenegro
North Macedonia
Norway
Serbia
Ukraine
Industry - field of education and training
Generic programmes and qualifications not further defined
Geographical sphere
International initiative