Summer Summit 2021: Data and the Digital Decade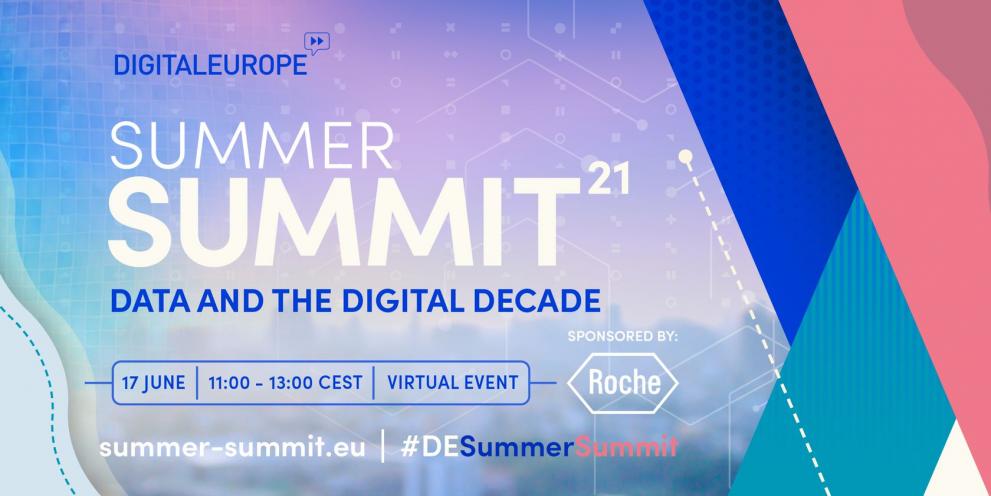 Summer Summit 2021, hosted by DIGITALEUROPE, initiates an important conversation around the use of data and AI to make the next decade Europe's Digital Decade. The European Commission has set targets for 2030, such as doubling the number of unicorns in the region, boosting uptake of artificial intelligence and cloud services to 75% of EU companies, and digitalising 90% of small and medium enterprises. These ambitious goals all rely on making use of the data that is around us and ensuring that the data economy is inclusive of organisations of all sizes.
This year is crucial for discussions on data policy and its impact on industry, and the Summer Summit aims to tackle the challenges and opportunities ahead together with Europe's top policymakers and industrial leaders. Speakers will discuss:
How we can ensure that Europe's approach to data allows our continent's innovators to flourish.
What we need to do to help European citizens take advantage of these new possibilities.
How we can improve the resilience of our companies for the next crisis.
What Europe will look like in 2030.
In the Expo section of the Summit, booths will be open for attendees to learn more about the Digital Skills and Jobs Platform and Digital SkillUp, featured at the event to shine a light on the relevance of digital skills in Europe's digital transformation.
Join us at DIGITALEUROPE's Summer Summit 2021!
© DIGITALEUROPE
Event Details
Digital technology / specialisation
Geographic scope - Country
Austria
Belgium
Bulgaria
Cyprus
Romania
Slovenia
Croatia
Czech republic
Denmark
Estonia
Finland
France
Germany
Greece
Hungary
Italy
Ireland
Malta
Latvia
Lithuania
Luxembourg
Netherlands
Portugal
Poland
Sweden
Spain
Slovakia
Industry - field of education and training
Generic programmes and qualifications not further defined
Geographical sphere
International initiative