Supporting employers to promote skills development in Latvia - Good practices public webinar

Supporting adults' participation in lifelong learning is critical for ensuring that they can develop skills to successfully navigate the job consequences of the pandemic, and the digital and green transitions.
The Ministry of Education and Science of the Republic of Latvia has requested technical assistance through the European Commission's Technical Support Instrument, to support employers in promoting skills development. The technical assistance will be provided by the Directorate-General for Structural Reform Support (DG REFORM) and the OECD between 2021 and 2023
The Good Practices Webinar seeks to give Latvian officials and stakeholders the opportunity to learn from good practices in other EU member states, and includes presentations from experts from Ireland, Sweden and Estonia. Simultaneous interpretation in English and Latvian will be available during the webinar, and requires attendees to have the latest version of Zoom.
For more information about the project, please refer to the project websites of the OECD and the Ministry of Education and Science of the Republic of Latvia.
Please register beforehand for the webinar by clicking here!
 
Draft agenda: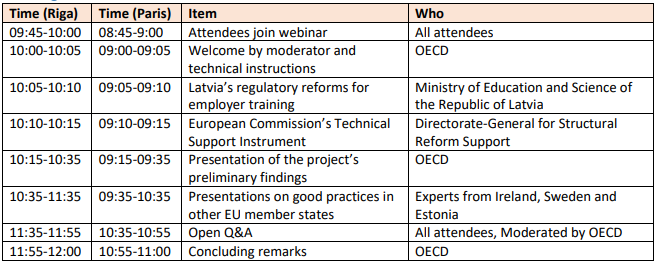 Event Details
Target audience
Digital skills for the labour force.
Digital skills for ICT professionals and other digital experts.
Digital technology / specialisation
Geographic scope - Country
Austria
Belgium
Bulgaria
Cyprus
Romania
Slovenia
Croatia
Czech republic
Denmark
Estonia
Finland
France
Germany
Greece
Hungary
Italy
Ireland
Malta
Latvia
Lithuania
Luxembourg
Netherlands
Portugal
Poland
Sweden
Spain
Slovakia
Industry - field of education and training
Information and Communication Technologies (ICTs) not further defined
Geographical sphere
EU institutional initiative