Supporting SMEs Post-Pandemic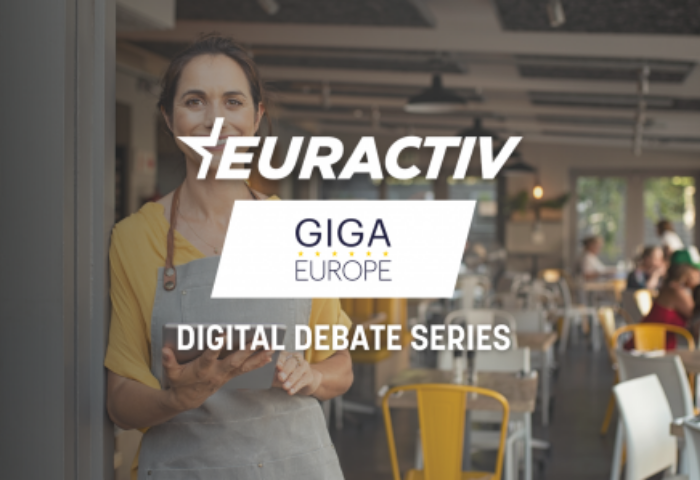 Supporting SMEs post-pandemic – how can policymakers ensure digital helps SME growth? is part of the series of online events "EURACTIV – GIGAEurope Digital Debates". On February 1 the focus will be on the topic of how policymakers can support SMEs to maintain their economic resilience post-pandemic.

Considering the fundamental role of SMEs in the economic well-being of the EU economy, and the fact that they account for over 60% of employment across the EU27 and the UK, this debate will address a number of questions arising in the current post-pandemic situation on the role of institutions in supporting this crucial sector. Drawing from the assumption that a number of challenges are contrasting the ability of the SME sector to fully embrace digital transformation, not least the scarcity of skilled professionals, the speakers will discuss potential solutions and the current state of play:
Are current EU and national policies equipped to support SMEs in the cases of availability, capacity and capability?
How can policy best mitigate a digital divide amongst European SMEs by addressing the financial constraints that impede the ability of SMEs to digitalise?
Should the opportunities presented by the use of digital (e.g. flexible working) be prioritised in ongoing government policy support?
What should a tailored policy approach look like for SMEs, as there can clearly not be a 'one size fits all' approach for ongoing SME support?
Speakers
Outi Slotboom, Director, Strategy & Economic Analysis, DG GROW, European Commission
Josianne Cutajar MEP, Member ITRE Committee, Shadow Rapporteur "A new strategy for European SMEs", European Parliament
Sebastiano Toffaletti, Secretary-General, European DIGITAL SME Alliance
Sjoerd Hauptmeijer, CEO & Founder, The Young Digitals
Murielle Lorilloux, EU Cluster and Enterprise Americas & Asia Pacific Director, Vodafone Business
Event Details
Target audience
Digital skills for the labour force.
Digital skills for ICT professionals and other digital experts.
Digital skills for all
Digital technology / specialisation
Geographic scope - Country
Austria
Belgium
Bulgaria
Cyprus
Romania
Slovenia
Croatia
Czech republic
Denmark
Estonia
Finland
France
Germany
Greece
Hungary
Italy
Ireland
Malta
Latvia
Lithuania
Luxembourg
Netherlands
Portugal
Poland
Sweden
Spain
Slovakia
Industry - field of education and training
Generic programmes and qualifications not further defined
Geographical sphere
Local initiative