Digital skills as a way to safeguard jobs: a snapshot on Cedefop's 'Job Loss & COVID-19' 2021 report
More than a year and a half after the first news about COVID-19 broke out, it is clear that the pandemic has had a profound impact on global economy and society, disrupting virtually every sector, system, or service and causing changes in key sectors like healthcare and education. Naturally, this had an impact on skills and particularly digital skills - as schools switched to remote learning and teaching and doctors increasingly consulted patients online on via the phone. In Europe, the COVID-19 crisis halted employment growth and put entire sectors out of work and triggered an unprecedented policy response. The EU Recovery and Resilience Facility makes €672.5 billion available to EU Member States with the aim of remedying some of the pandemic's effects, and together with NextGenerationEU forms the biggest stimulus package in the history of the European Union. 
Data on job loss as a result of the COVID-19 pandemic varies. This is largely due to the fact that job loss has been offset by various fiscal measures of EU Member States, such as offering financial support for furloughed workers and the unemployed, boosting businesses' resilience through funding schemes, increasing social and welfare payments, etc. According to some estimates, the COVID-19 crisis has had an impact on up to 59 million jobs within the EU (or 26% of the total workforce), at least in the short-term. This includes measures such as furloughs, permanent layoffs, and working hours reduction. This picture varies as we move from one EU Member State to the next, across industries, and across skills levels. 
Measuring COVID-19's impact on jobs across Europe 
The report Job loss and COVID-19: do remote work, automation and tasks at work matter? by Cedefop, the European Centre for the Development of Vocational Training offers insight into the future of work and the way in which the pandemic has impacted trends and data on employment and skills across the European Union. To estimate the impact the impact of COVID-19 on employment loss, the report looks at two factors that span across different roles and occupations in the EU – remote working potential and risk of automation.
Two main findings emerge from the report, which is based on data from an impact scenario, conducted by Cedefop for the summer edition of the Skills Forecast. Firstly, occupations and countries, where people have fewer opportunities to work remotely are also deemed more prone to automation, which translates to higher expected job loss. Secondly, when we look at the tasks people perform at work, this loss seems to diminish in countries, where information and communication technology (ICT) skills are important for a larger proportion of jobs. 
Digital skills and employment: a snapshot of latest trends
This is the case especially for more vulnerable groups of the workforce, including those with low skills, as well as those lacking digital skills - who are more likely to lose their jobs, see their small business close, or face reduction of working hours. Recent research by the European Commission's Joint Research Centre (JRC) also shows that impact of the COVID-19 crisis is more likely to concentrate on the most vulnerable segments of the working population such as migrant, low-skilled, low-wage and young workers. One example is occupations requiring manual work, in which income uncertainty is high, and wages are generally lower. As illustrated in the figure below, 30% of jobs lost in 2020 were jobs, generating low annual earnings.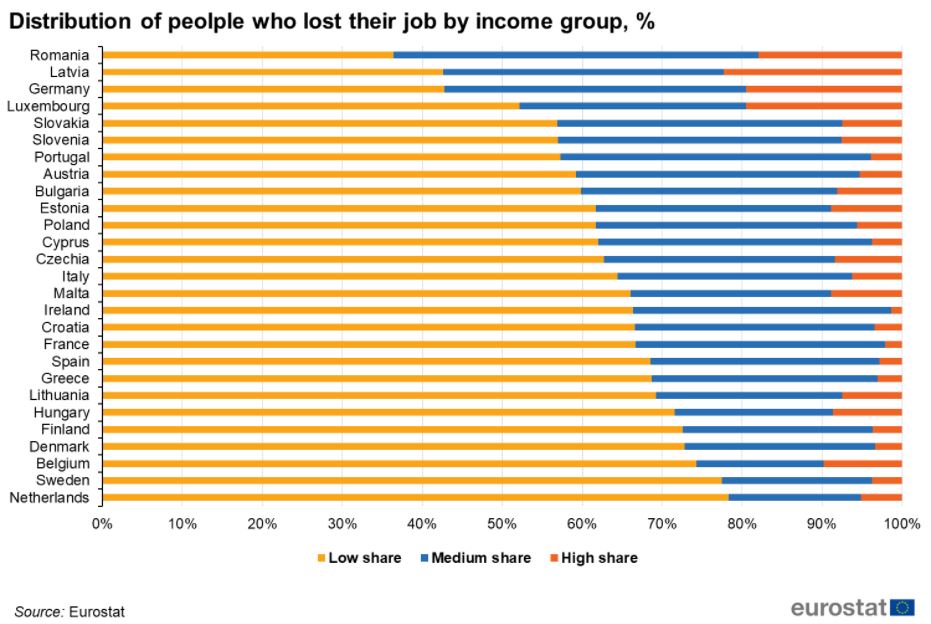 Working from home: the bigger picture
Teleworking is a key element in the report, which highlights the important role of remote work in safeguarding jobs and contributing to economic growth. Using a cross-sectoral model, the report estimates that only six weeks of social distancing rules could shrink national GDP, with significant differences from one country to another. For example, the impact in Denmark, where a higher proportion of the workforce has the possibility to conduct activities remotely, is estimated at 4.3%. This is more than double compared to the estimate for Bulgaria, which stands at 9.2%. But teleworking is not the only element at play here: skills are also crucial. According to a JRC brief, in 2019 the share of workers in non-manual occupations with low or little digital skills was as high as 40% in Bulgaria, twice as high as the EU average of 20%, which could also offer some answers to the data above. 
Automation risk and COVID-19
Similarly, automation was found to be a greater threat for employment in occupations that have high routinisation frequency and require low digital skills. We can expect to see professions more prone to automation impacted to a greater extent by the COVID-19 pandemic and aftermath. Since the pandemic is expected to affect future investment decisions, it is likely that (to a certain extent) firms across the EU will accelerate the adoption of automation. An example is online retailing, with certain firms perhaps choosing to go fully online and making workers in physical stores redundant.  
Towards a more resilient and skilled workforce
With COVID-19 significantly accelerating current trends in job polarisation and automation, the need to prepare European workforce for future challenges is imperative. Insight from Cedefop's report and skills forecasts shows that ICT skills can help employees buffer the shock from COVID-19 and is linked to economic and business growth. Jobs that are highly dependent on these skills are expected to suffer less employment loss and recover faster after the pandemic has ended. Some EU initiatives already launched to support this include: the European Pact for Skills and EASE, while financial support and funding can be accessed through the European Social Fund and other programmes under the EU Recovery and Resilience. Last but not least, the ambitions of the European Commission's Digital Decade communication - ensuring 80% of EU citizens have at least basic digital skills, and reaching 20 million ICT specialists by 2030, put forward a roadmap and targets to bridge differences from one Member State to the next and build a more resilient Europe. 
News details
Digital technology / specialisation
Geographic scope - Country
Austria
Belgium
Bulgaria
Cyprus
Romania
Slovenia
Croatia
Czech republic
Denmark
Estonia
Finland
France
Germany
Greece
Hungary
Italy
Ireland
Malta
Latvia
Lithuania
Luxembourg
Netherlands
Portugal
Poland
Sweden
Spain
Slovakia
Geographical sphere
EU institutional initiative