Digital SkillUp launches innovative online courses on emerging technologies for EU citizens and SMEs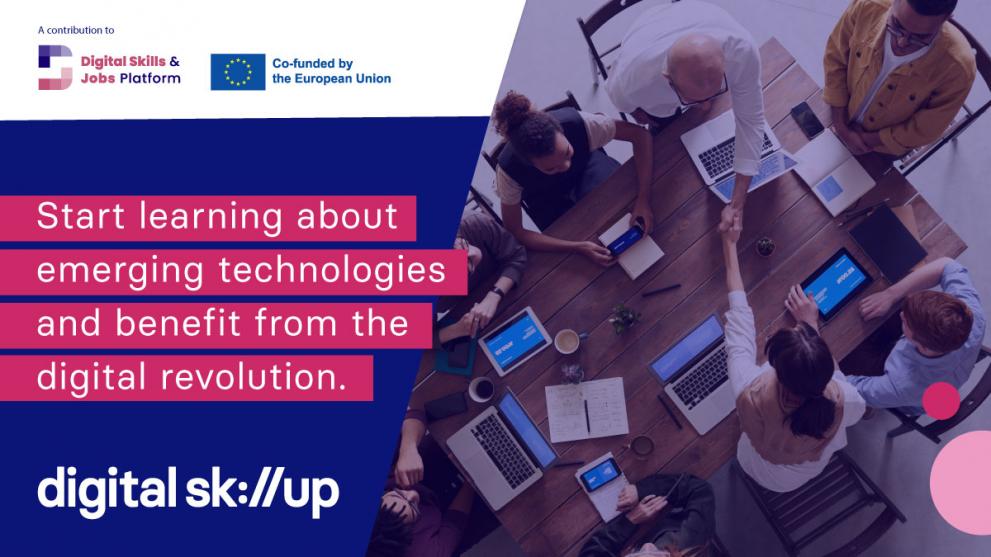 In the digital world, our personal lives as well as the future of work, are defined by emerging technologies. New technological solutions like Artificial Intelligence (AI), Internet of Things (IoT), blockchain, big data, robotics, or Augmented and Virtual Reality (AR/VR) come with a wide range of opportunities for innovation and growth. However, understanding their impact and staying up to date with the ever-increasing pace of change can prove to be challenging for many.
To help all European citizens and businesses including SMEs keep up with and fully benefit from these technological advancements, the Digital Skills and Jobs Platform has expanded its learning pillar with Digital SkillUp – an online guide explaining emerging technologies in a simple, accessible, and engaging way.

Digital SkillUp has been created for everyone, no matter their age, profession, or ICT experience. It offers 3 core courses, available in 10 EU languages. They serve as a comprehensive introduction to the digital revolution, key emerging technologies and cybersecurity. Hundreds of additional top-quality training opportunities collected in the Digital SkillUp Course Catalogue, support more advanced learners in boosting their digital competencies and expanding their knowledge even further.
The Digital SkillUp community will benefit from the Digital Skills and Jobs Platform. It will be the home for stakeholders interested in emerging technologies and learning to exchange best practices and network with one another in it is dedicated space.
Ready to start your learning journey? Visit Digital SkillUp and join the community.
You can also read the news announcement about Digital SkillUp going live published by the European Commission.
© Digital SkillUp
News details
Digital technology / specialisation
Geographic scope - Country
Austria
Belgium
Bulgaria
Cyprus
Romania
Slovenia
Croatia
Czech republic
Denmark
Estonia
Finland
France
Germany
Greece
Hungary
Italy
Ireland
Malta
Latvia
Lithuania
Luxembourg
Netherlands
Portugal
Poland
Sweden
Spain
Slovakia
Geographical sphere
EU institutional initiative