Digital Week 2022: partners and participants meet during a seminar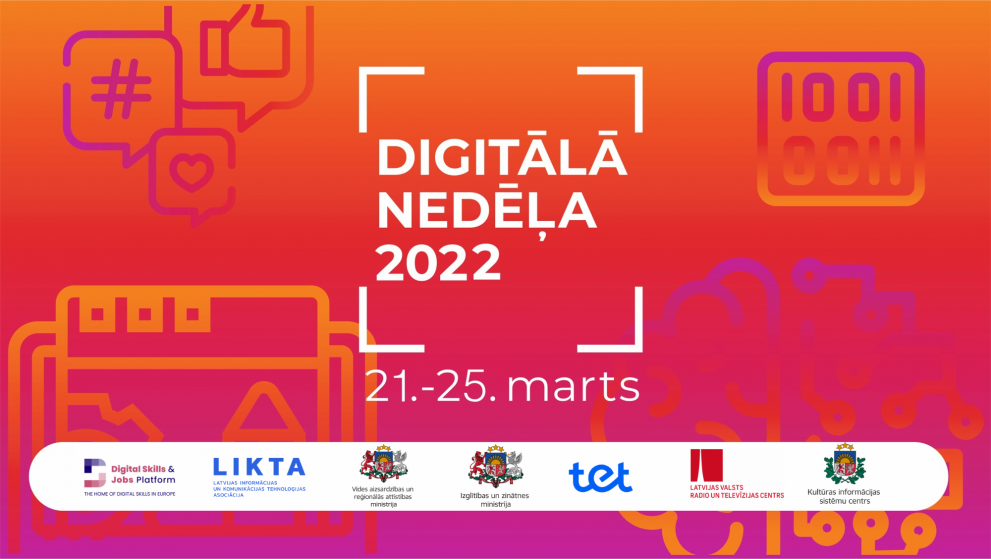 In the context of the ALL DIGITAL Week 2022, a Partners and Participants Seminar was organised on 4 March, bringing together around 170 representatives from various national organisations, municipalities, libraries, and the information technology (IT) industry. The objective of the seminar was to present the key activities on digital skills and jobs to take place during the week.
Digital Week in Latvia 
The Digital Week campaign in Latvia (part of the wider ALL DIGITAL Weeks campaign on EU level) has been running for 13 years already, coordinated by the Latvian Information and Communication technology Association (LIKTA) with the support and cooperation of a variety of public and private partners in digital skills. 
The 2022 edition in Latvia contains activities and initiatives on the topics of the digital transformation and aims to raise further awareness of the benefits digital technologies hold for citizens and businesses. The following thematic days are taking place throughout the month of March: 
Monday 21 March: Launch of Digital Week 2022, focus on the EU Digital Decade and Digital Transformation and Skills Priorities in Latvia;
Tuesday 22 March: Business and employment skills;
Wednesday 23 March: Services and digital identity;
Thursday 24 March: Security and critical thinking;
Friday 25 March: Skills and infrastructure.
Seminar for partners and participants: presentations
The seminar was open to all organisations from Latvia, with presentations from: LIKTA, the Ministry of Environmental Protection and Regional Development, the The Ministry of Education and Science of the Republic of Latvia, the State Employment Agency, CERT.lv, the Safer Internet Centre of Latvia, the Centre for Cultural Information Systems, Jumis Pro, SK ID Solutions, DATI Group, Ventspils Digital Centre, Latvia's National Radio and Television Centre, Tet, Liepāja Education Development and Methodological Support Centre. 
All presentations, together with the seminar agenda are available on LIKTA's webpage. If you missed the seminar itself, you can watch the recording (in Latvian) on this page. You can also follow the hashtags #eprasmes22 and #ADWeeks2022 on Twitter. 
News details
Digital technology / specialisation
Digital skill level
Basic
Intermediate
Advanced
Geographic scope - Country
Type of initiative
National initiative