ESCO needs your input: share your views in the evaluation survey!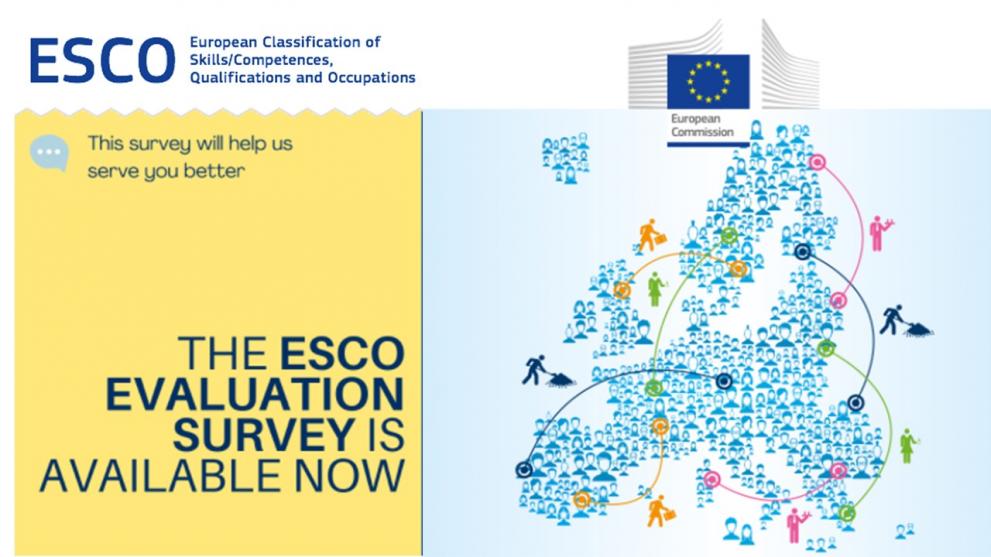 The European Skills, Competences, Qualifications and Occupations (ESCO) isa multilingual classification that identifies and categorises skills, competences, qualifications and occupations relevant for the EU labour market and education. 
Developed by the European Commission in 2010, ESCO has undergone continuous improvement to reach its current state today. And the labour market has also not stood still: with the increased use of digital technologies, the skills and competences needed by employers are different from a decade ago. 
On 19 November, the European Commission opened up the ESCO Evaluation Survey and invited stakeholders and organisations involved in the framework's implementation to share their views on ESCO's success so far, and the extent to which it has contributed to better job-matching, personalised career guidance, and bridging supply and demand in the labour market.  
The survey is addressed to any public, private or non-profit organisation using ESCO in their systems, projects or research for any of the ESCO use cases: connecting people to jobs, connecting education with the labour market and performing labour market analysis on skills and occupational trends. In this context, the Commission aims to assess the success of ESCO and learn about its contribution to the delivery of digital services, projects or research in the labour market and education and training. 
The survey is part of ESCO's monitoring and evaluation strategy started in 2021 that aims to draw evidence-based conclusions about ESCO's role and impact on the labour market and education and training. The results will feed into the continuous development of ESCO and its management while also providing transparency towards ESCO's stakeholders.
The survey is open until 31 of December 2021. Access the survey here. 
News details
Digital technology / specialisation
Geographic scope - Country
Austria
Belgium
Bulgaria
Cyprus
Romania
Slovenia
Croatia
Czech republic
Denmark
Estonia
Finland
France
Germany
Greece
Hungary
Italy
Ireland
Malta
Latvia
Lithuania
Luxembourg
Netherlands
Portugal
Poland
Sweden
Spain
Slovakia
Geographical sphere
EU institutional initiative