Eurobarometer 2021: the difficulty of learning new digital skills is a top concern for Europeans

According to a special Eurobarometer survey conducted in September and October 2021, an overwhelming majority of EU citizens think that the Internet and digital tools will play an important role in the future.
More and more Europeans access the internet every day - and on average, 85% of them do this at least once per week. With this comes also the growing use of digital tools and solutions, which spreads across the public and private sphere. The COVID-19 pandemic only accelerated this further, as schools shifted to distanced learning and government guidelines in EU Member States encouraged and mandated remote work. One thing is clear: as Europeans, we now need the internet not only to share information with one another, or entertain ourselves: digital technologies and tools enable us to work, manage our taxes, our health insurance and access to cultural services.
'Access to the internet is no longer a novelty'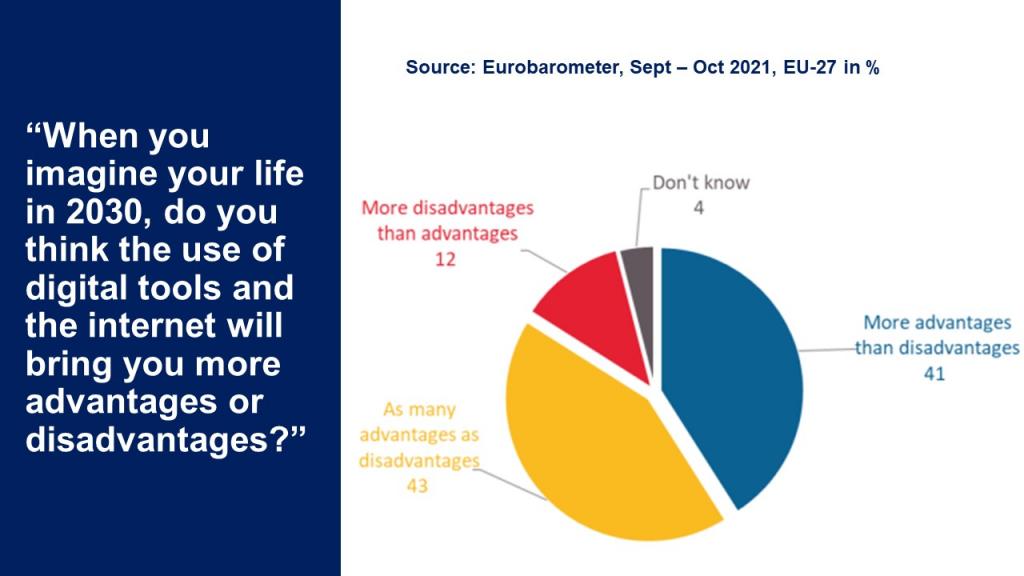 Survey respondents were asked to imagine their lives in 2030 and assess how important they expect digital tools and the internet to be in their lives by 2030, and whether or not they expect digital tools and the internet to bring them more advantages than disadvantages. Two out of five (or 41%) of Europeans expect more advantages than disadvantages. Another 43% are not so sure in their assessment, expecting both challenges and advantages. 12% of EU citizens think the Internet will be a darker place by 2030, bringing more minuses than benefits. 
Zooming in on EU Member States: a more detailed picture
Country-specific results reveal some interesting patterns. Citizens in some EU countries are more optimistic on the advantages of digital tools: this is very much the case in Finland (67%), Denmark (63%), and Sweden (62%). In others, citizens think of digital tools and the internet as a door to more challenges than benefits - 22% of respondents in Greece, 20% of those in Austria, and 18% in France thought this way. And some simply do not know - more than 1 in 10 of respondents in Bulgaria indicated they are not sure how to answer the question. 
Stormy weather ahead: top concerns for Europeans 
When it comes to how European citizens perceive future challenges and concerns related to digital tools and the internet, different patterns also emerge across age groups, digital competence level and areas of concern. 
Online/offline balance vs the difficulty of learning new digital skills
More than 1 in 3 (or 34% of) EU citizens indicate that they are struggling to achieve a healthy online/offline balance. And over 1 in 4, or 26% of respondents, stated they were worried about the difficulty of learning new digital skills and how this may affect their participation in society (such as working or studying online, online voting, etc.). 
For instance, 29% of respondents aged 55+ are more likely to worry about the difficulty of acquiring new digital skills in order to take an active part in society. This ratio gradually decreases as we look at younger people: 26% for those aged 40-54, and 23% for the 15-24 age group. But we can also see that while age may be a factor, experience is an equally significant one: only 21% of those aged 25-39 (i.e. young people with at least 2-3+ years of work experience) were worried that learning new digital skills would be a hard task. 
An overwhelming worry for the youngest survey respondents (15-24) is the difficulty of disconnecting from the Internet and social media and finding a good online/offline balance. 
Cyberattacks and cybercrime
More than half of EU citizens indicate worrying about cyber-attacks and cybercrime such as theft or abuse of personal data, ransomware (malicious software) or phishing, as well as the safety and well-being of children. 
When asked to select the 4 aspects about the increased role of digital tools and internet that worry them most, most survey respondents indicated concerns linked to the increased levels of cyber crimes and cyber attacks and the projected impact (i.e. loss of personal, sensitive, financial data). 
Online safety and wellbeing for children is another key concern, with 53% of Europeans stating this is a factor for them. For 46% of people, misuse of data by companies and public administrations due to low digital skill levels is another concern. This is also the case with access to the online world for people with disabilities and those living in areas with little or no internet access (41%). 
News details
Digital technology / specialisation
Geographic scope - Country
Austria
Belgium
Bulgaria
Cyprus
Romania
Slovenia
Croatia
Czech republic
Denmark
Estonia
Finland
France
Germany
Greece
Hungary
Italy
Ireland
Malta
Latvia
Lithuania
Luxembourg
Netherlands
Portugal
Poland
Sweden
Spain
Slovakia
Geographical sphere
EU institutional initiative