The European Innovation Scoreboard 2021: no innovation without digital skills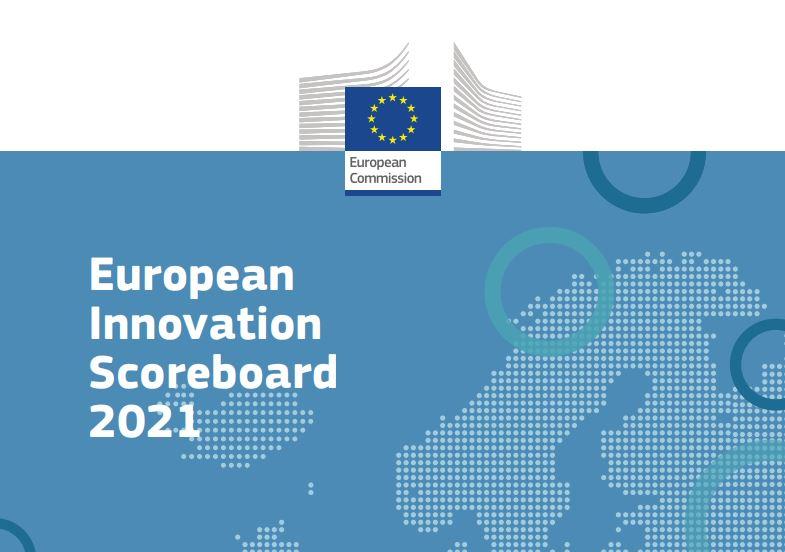 On 26 June 2021, the European Commission released the 2021 European Innovation Scoreboard (EIS). The EIS is an annual publication that takes stock of the state-of-play of innovation in Europe, offering data to support the design and implementation of more innovative policies across sectors and areas. It also serves as a source of information for policy-makers, providing relevant statistical and analysed data according to key performance indicators. Used extensively by EU Member States, the EIS provides a common framework, enabling public administrations and governments to assess areas, requiring improvement and boost innovation performance. 
The 2021 edition of the European Innovation Scoreboard is more particular: its update takes into account the impact of the global COVID-19 pandemic on the innovation and research ecosystem; and includes new indicators to measure key skills areas: digital skills and advanced digital skills, upskilling and reskilling, lifelong learning and employment trends in the information and communication (ICT) sector. Other indicators are deployed to measure the ability of European SMEs to bring innovative products and solutions to the market, as well as the digital maturity of organisation in integrating new solutions. In this sense, the 2021 EIS has another objective: to encourage, stimulate and drive forward a more digital, sustainable, and competitive Europe, and ensure European SMEs become key actors of the digital transition.
Measuring digital skills and their impact on innovation
The European Innovation Scoreboard 2021 assesses performance across key skill areas, such as: 
Digitalisation, including individuals who have above basic overall digital skills. 
Human resources, including new doctorate graduates (in STEM), population aged 25 to 34 with tertiary education, and lifelong learning trends. 
Use of information technologies, including overall data on the use of IT as well as: enterprises actively providing training to upgrade the information and communication technology (ICT) skills of their employees and personnel, and employed ICT specialists. 
Additional indicators added in 2021 include mobility of skilled professionals. According to the EIS, job mobility of workers with high skills is directly linked to knowledge-creation, considered one of the key drivers of innovation. 
Top European Innovators in 2021: who are the winners? 
Overall, innovation performance improved most in Finland, with an increase of 21.4% since 2019. This means that Finland almost closes the performance gap with Sweden - the most innovative EU Member State. Sweden itself gained another 8.4% increase in performance just over one year. But other countries are also following suit: one example is Belgium, which also saw a 20.7% increase from 2014 to today. Denmark retained its strong position as an innovation leader: however it still dropped to number 3 in the scoreboard, largely due to the outstanding performance of both Finland and Sweden. 
Although differences from one country to next remain, the European Innovation Scoreboard notes that all EU Member States have substantially increased their innovation capacity.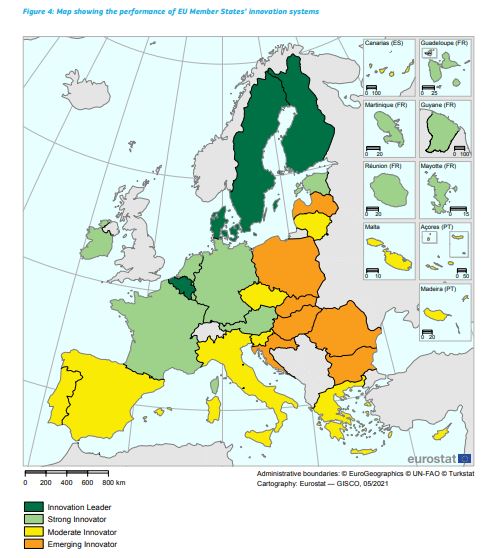 Matching skills needs to innovation demands 
Several insights emerge from the data put forward by the 2021 European Innovation Scoreboard on digital skills and employment. In general, the more innovative a country is, the better it performs across sectors and industrial areas. And advanced digital skills have the potential to transform the innovation ecosystem, especially for the EU Member States lagging behind. To achieve an innovation-friendly business environment, Europe needs an innovation system that scores high in all areas and sectors - together with an increased public and private investment in areas such as education, research and skills development. The creation of strong and sustainable partnerships, which bring together different actors from industry, academia, and civil, social and trade organisations, is also a decisive factor behind innovation rates. 
Specialised skills for innovative solutions
But what type of digital skills have the biggest potential for innovation? The European Innovation Scoreboard's Explanatory Report on Measuring Digital Skills. identifies digital literacy, Artificial Intelligence (AI) and cybersecurity as the top skills to drive innovation processes forward. 
Together with fostering the development of both basic and advanced digital skills, the availability of digital education and the capacity to attract digital talent directly support national and EU competitiveness. Effective national strategies on digital skills and coherent lifelong learning policies, complemented by a wide plethora of targeted upskilling and reskilling initiatives, hold the key to driving forward innovation and growth across countries and regions. 
News details
Digital technology / specialisation
Geographic scope - Country
Austria
Belgium
Bulgaria
Cyprus
Romania
Slovenia
Croatia
Czech republic
Denmark
Estonia
Finland
France
Germany
Greece
Hungary
Italy
Ireland
Malta
Latvia
Lithuania
Luxembourg
Netherlands
Portugal
Poland
Sweden
Spain
Slovakia
Geographical sphere
EU institutional initiative