European Tech Hiring Trends 2021: New report on employer demand for technology workers
The Computing Technology Industry Association (CompTIA) has published its European Tech Hiring Trends 2021. The report analysed 10 markets across Europe, including Belgium, Czech Republic, France, Germany, Italy, Netherlands, Poland, Portugal, Romania and Spain. The insights of CompTIA are aimed at employers, policymakers and jobseekers among others, designed to highlight the impact of Covid-19 on employment, and current and future trends for technology roles.
Increase in tech hiring activity from European employers
The uncertainty throughout 2020 caused by the Covid-19 pandemic created stagnation in the hiring of new staff for many organisations. Consequently, the early part of 2021 has seen an increase in hiring to fill positions that were previously shelved. Q1 of this year has shown total hiring activity as measured by employer job postings for technology positions increasing by 9%; if measured against Q3 for 2020, the increase is 40%. There is a clear demand for technology competences to be more present in companies – not only in terms of the output they produce, but also their internal processes and work flows, optimising technology for the most effective approaches. Employers across the 10 countries assessed in this study posted nearly 900,000 job advertisements in Q1 of 2021, highlighting a clear surge in the wake of the pandemic as many sectors move to digital environments.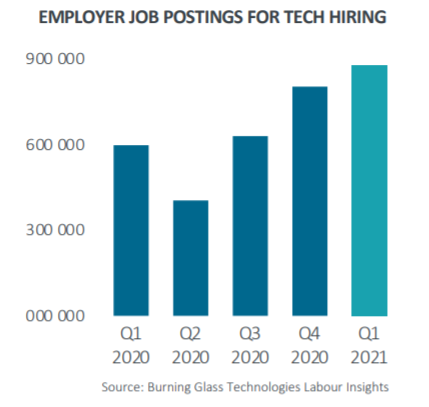 Evolution of job roles and skills in European hiring
As the integration of digital becomes continually more substantive in daily life, the demand for technical competences will too. As such, current trends show a growth in job categories that lie in a more technological realm. Job roles such as Software Developer and Network Technicians are increasingly being sought to be filled, and in most countries, the pattern demonstrates that the Software Developer role accounts for the largest portion of job postings across the European countries covered in this report. It should also be noted that for more niche emerging areas of technology, such as AI, job postings are not so widely seen, however that does not mean there is not an uptick in hiring activity. Recruiters may use hiring resources to seek a single candidate, so hiring activity seems lower yet the actual number of individuals being hired is only growing.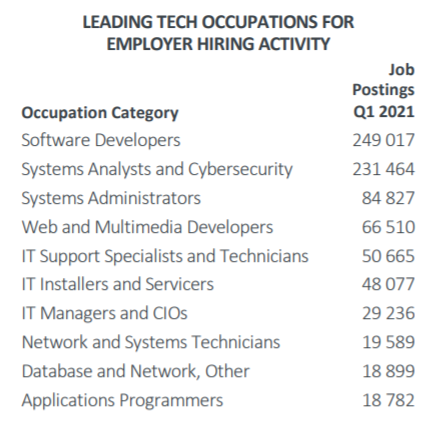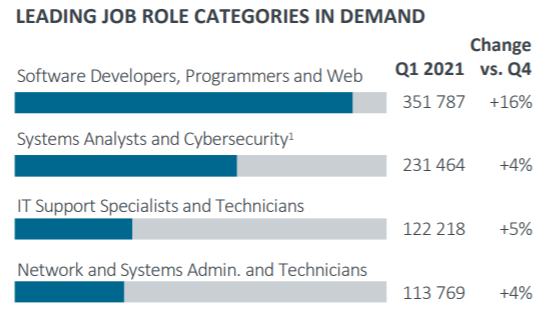 The skills required by employers are also changing; recruiters are looking, in general, for well-rounded candidates in tech roles. This reflects the nature of innovation regarding technology – not only are technical skills such as programming and Java desired, but also soft skills such as the ability to work with a team and provide customer service. Looking for candidates that have soft and technical skills highlights how technology not only relates to a direct technological product or service offered by a company, but also the business applications and implications, understanding what technology can do for the organisation and for customers.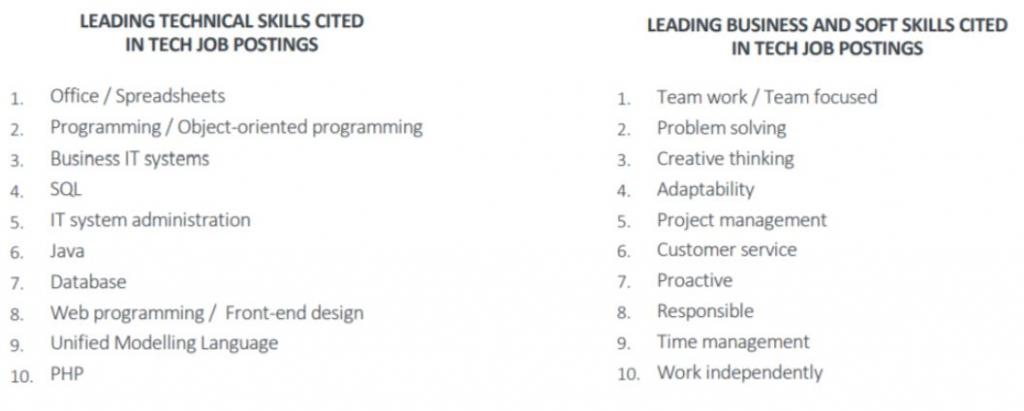 Job levels and sectors
In general, the ICT and communications sector sought to recruit the most staff in technical positions, followed closely by manufacturing, administrative services, and financial services. Increases in the number of technical positions created and filled in the ICT sector may not be surprising initially, but it only further demonstrates the rise in importance of the digital industry. Additionally, having the ICT sector followed by manufacturing and financial services among others indicates the current and future digitalisation of all industries – digital skills, and the related soft skills, will continue to be increasingly sought after as competences needed to operate in a digital environment will be essential.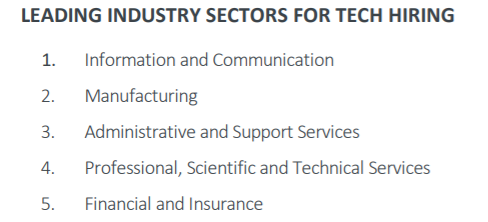 © CompTIA
News details
Digital technology / specialisation
Geographic scope - Country
Austria
Belgium
Bulgaria
Cyprus
Romania
Slovenia
Croatia
Czech republic
Denmark
Estonia
Finland
France
Germany
Greece
Hungary
Italy
Ireland
Malta
Latvia
Lithuania
Luxembourg
Netherlands
Portugal
Poland
Sweden
Spain
Slovakia
Geographical sphere
International initiative