#EuropeDay2022: Closure of the Conference on the Future of Europe and the European Year of Youth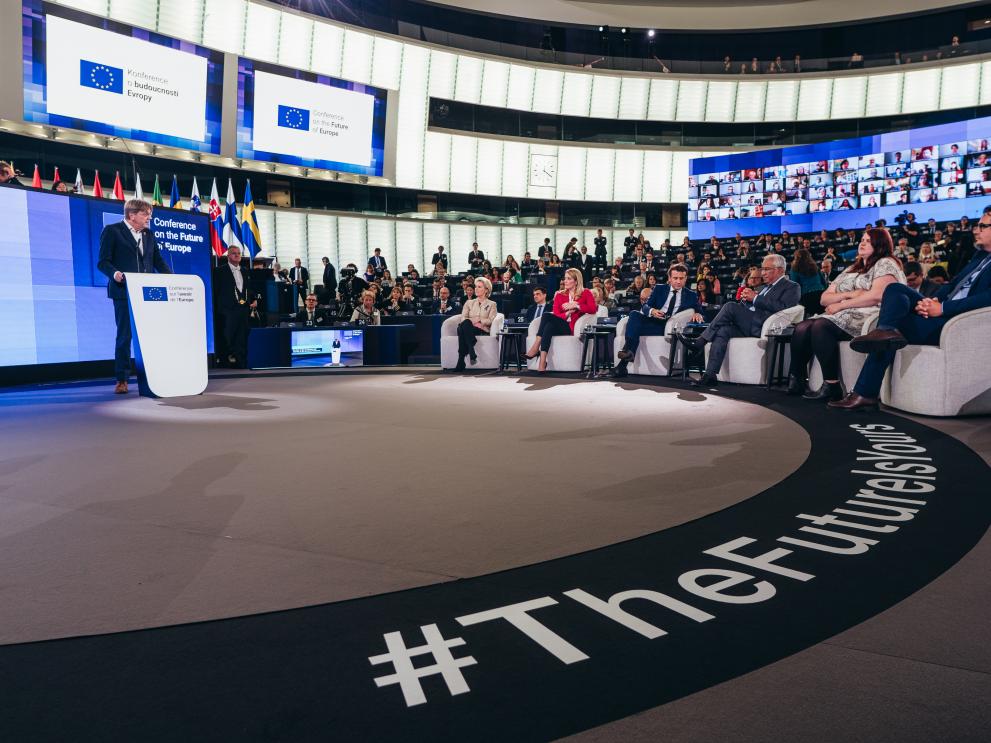 On 29 and 30 April, the plenary session of the Conference on the Future of Europe met for the last time and backed 49 detailed proposals across a wide range of topics, from climate change to health, migration, and the EU around the world. 
This marks the closure of a one-year journey of discussions, deliberations, and collaboration from people all across Europe on the type of Europe they want to live in. Given Russian military aggression and European Year of Youth 2022, Europe Day 2022 is more important to solidify the EU's commitment to peace, unity with Ukraine and defend universal values, as well as highlight the voices of young people across Europe. 
For Europe Day, the EU institutions opened their doors, both online and on-site in the Member States and worldwide. People had the opportunity to visit the institutions, on 7 May in Brussels, 9 May in Luxembourg and 15 May in Strasbourg. Visitors will also, in addition, be able to make virtual visits to the EU institutions. All information on Europe Day 2022 is available on an interinstitutional platform dedicated to Europe Day and in the factsheet.
On 9 May in Strasbourg, the anniversary of the Schuman Declaration, a report presenting the outcome of the Conference was submitted to the Presidents of the European Parliament, the Council, and the Commission. 
In this Conference report, the proposals for digital skills and literacy include ensuring that all European citizens can benefit from digitalisation by empowering them with digital skills and opportunities through measures such as, ensuring access to formal and non-formal digital literacy and skills training and education for all stages of life and in school curricula, focusing especially on inclusion of vulnerable groups and the elderly. Also, by ensuring healthy use of the internet by encouraging the implementation of digital skills training for all age groups with standardised programmes and curricula. Finally, by introducing an EU certification for digital skills in schools that will help prepare young people for future employment. 
The EU and Member States should also develop future-proof education and life-long learning, consistent with the right to free training in the workplace. The report also recommends that young people's digital skills could be boosted by an EU-wide certification which would prepare them for future jobs. 
© European Union, 2022
News details
Digital technology / specialisation
Geographic scope - Country
Austria
Belgium
Bulgaria
Cyprus
Romania
Slovenia
Croatia
Czech republic
Denmark
Estonia
Finland
France
Germany
Greece
Hungary
Italy
Ireland
Malta
Latvia
Lithuania
Luxembourg
Netherlands
Portugal
Poland
Sweden
Spain
Slovakia
Geographical sphere
EU institutional initiative