Last days to apply for the 3 Open Calls on Advanced Digital Skills under DIGITAL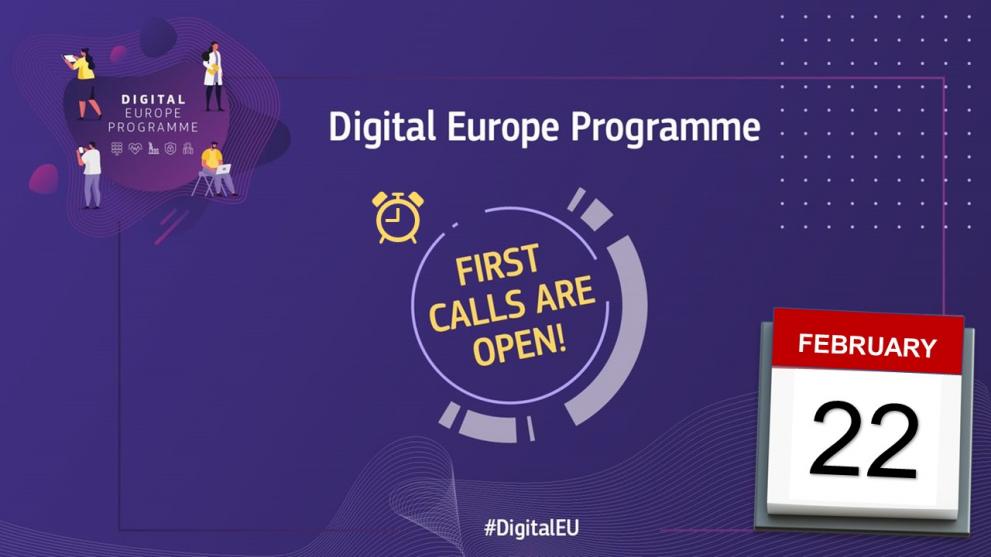 There is still time to apply for DIGITAL's 3 open calls on Advanced Digital Skills: the deadline for applications is 17:00h on 22 February 2022. The calls are open to businesses, organisations, public administrations from the EU Member States, and entities from other countries associated to the Digital Europe Programme. 
The calls were officially announced on 17 November 2021, following the adoption of the Work Programmes under the revamped DIGITAL, which gathers a total of €1.98 billion in funding.
On December 1 more than 400 people joined the Info Day "Partner for DIGITAL Skills" to learn about the new calls on Advanced Digital Skills. The event presented the new three calls under the DIGITAL programme and included a pitching/workshop session and a matchmaking session to help participants find the right partners for their project ideas.
Missed it? We gathered the presentations from the Info Day in case you need to fill the gaps. You can also watch the recording from the day.
The objective of the action in the field of Advanced Digital Skills is to support the rollout of initiatives to allow advanced ICT skills development, by gathering inputs on the existing education offers in digital areas and the related needs of the labour market. 
The actions should contribute to support excellence in education institutions, the development of a dynamic digital ecosystems and the collaboration between the different consortia established within the call "Specialised education programmes in key capacity areas"
Questions?
You can find all details on our dedicated page. Make sure you also check the Q&A for these calls on the European Commission's Funding & Tender Portal. 
Still looking for partners? 
Join the Platform's vibrant community and head over to our networking group, Partner For DIGITAL Skills to find partners and like-minded organisations, planning to participate in the current calls. 
Closing time is near. Get your application in by 5pm CET on 22 February 2022! 
News details
Digital technology / specialisation
Geographic scope - Country
Austria
Belgium
Bulgaria
Cyprus
Romania
Slovenia
Croatia
Czech republic
Denmark
Estonia
Finland
France
Germany
Greece
Hungary
Italy
Ireland
Malta
Latvia
Lithuania
Luxembourg
Netherlands
Portugal
Poland
Sweden
Spain
Slovakia
Geographical sphere
EU institutional initiative