Last days to apply for the 3rd DIGITAL call! Deadline on 24 January!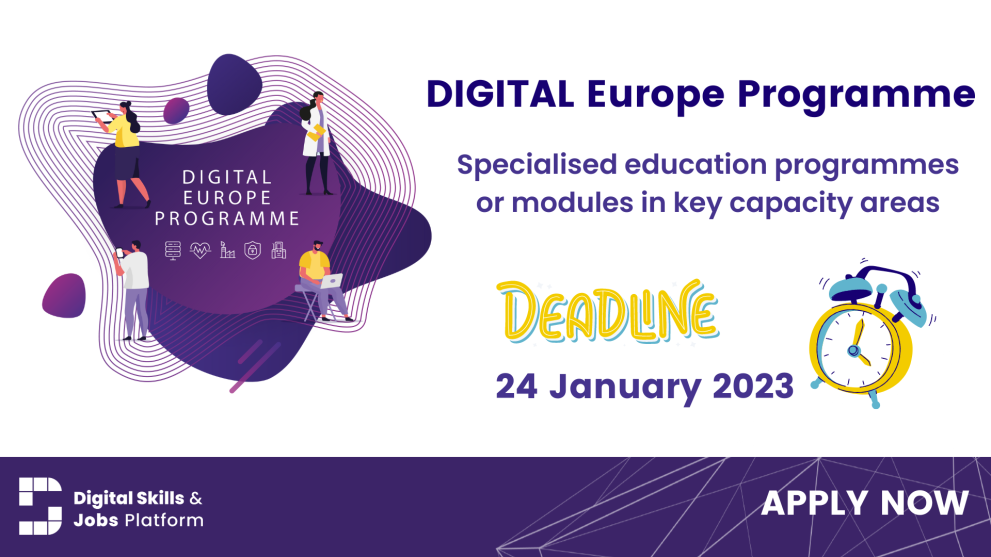 There are still some days to apply for the 3rd call under the DIGITAL Europe Programme on education programmes in key technologies. The deadline is on 24 January, don't miss it!
The 3rd Call under the DIGITAL Europe Programme, 'Specialised education programmes or modules in key capacity areas', was launched in September 2022 to help the EU to boost its digital talent by supporting the development of Bachelor's courses and Master's courses in digital domains such as cybersecurity, internet of things, blockchain, artificial intelligence, and multi-disciplinary courses empowering professionals in non-ICT sectors with digital skills. 
If you're a higher education institution, a research centre or an innovative business developing digital technologies, this call for proposals allows you to partner up with active actors in the digital domain and expand the European education offer key digital technologies.
The deadline for the applications is 24 January 2023 17:00:00 Brussels time. Hurry up!
Don't forget to check our dedicated page on DIGITAL so as not to miss any updates on DIGITAL Europe Programme calls!
News details
Digital technology / specialisation
Geographic scope - Country
Austria
Belgium
Bulgaria
Cyprus
Romania
Slovenia
Croatia
Czech republic
Denmark
Estonia
Finland
France
Germany
Greece
Hungary
Italy
Ireland
Malta
Latvia
Lithuania
Luxembourg
Netherlands
Portugal
Poland
Sweden
Spain
Slovakia
Geographical sphere
EU institutional initiative