LUMI: The new European supercomputer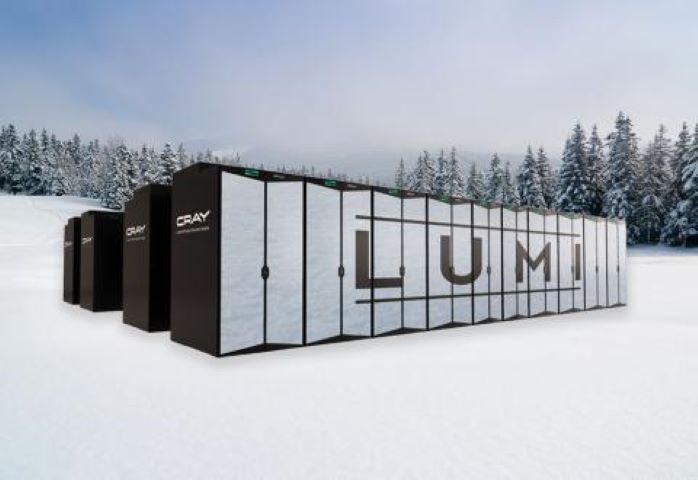 On 13 June, the European High Performance Computing Joint Undertaking inaugurated its latest supercomputer, LUMI, located in the city of Kajaani in Finland. 
LUMI is the fastest and most energy-efficient supercomputer in Europe and is now also ranked third fastest in the world. It is a joint effort of the EuroHPC Joint Undertaking and a consortium of ten European countries: Finland, Belgium, Czechia, Denmark, Estonia, Iceland, Norway, Poland, Sweden and Switzerland.
Margrethe Vestager, Executive Vice-President for a Europe fit for the Digital Age, said: 
Today marks a major step for Europe's digital and green transformation. Lumi is now the fastest and most energy-efficient supercomputer in Europe, and one of the most powerful ones in the world. Thanks to its massive computing capacity, Lumi will enable scientific breakthroughs in for instance medicine and climate research at a much faster pace. It could be in the development of vaccines, diagnosis of cancer, or mitigation of the effects of climate change. This is a great example of the enormous potential of artificial intelligence to improve our lives. 
LUMI is the first of the EuroHPC Joint Undertaking's pre-exascale supercomputers to be launched and it have an expected peak performance of 550 petaflops, equal to 550 million billion calculations per second, while also being powered completely by renewable energy. LUMI uses natural colling systems and the waste heat that is produced will be used for around 20% of the district heating in Kajaani, which will reduce the entire city's annual carbon footprint substantially. 
LUMI will be accessible to European users in September 2022 and as Vice-President Vestager said, it will contribute to accelerating the creation of new knowledge and solution to global challenges in society. 
LUMI's computing power will complement the EuroHPC Joint Undertakings existing supercomputers: Discoverer in Bulgaria, MeluXina in Luxembourg, Vega in Slovenia, and Karolina in Czechia. There are three more EuroHPC supercomputers in progress, LEONARDO in Italy, Deucalion in Portugal, and MareNostrum 5 in Spain. 
Discover LUMI, the European High Performance Computing Joint Undertaking and the inauguration press release. 
 
© European High Performance Computing Joint Undertaking
News details
Digital technology / specialisation
Geographic scope - Country
Austria
Belgium
Bulgaria
Cyprus
Romania
Slovenia
Croatia
Czech republic
Denmark
Estonia
Finland
France
Germany
Greece
Hungary
Italy
Ireland
Malta
Latvia
Lithuania
Luxembourg
Netherlands
Portugal
Poland
Sweden
Spain
Slovakia
Geographical sphere
EU institutional initiative