New EIT call launched to boost innovation in higher education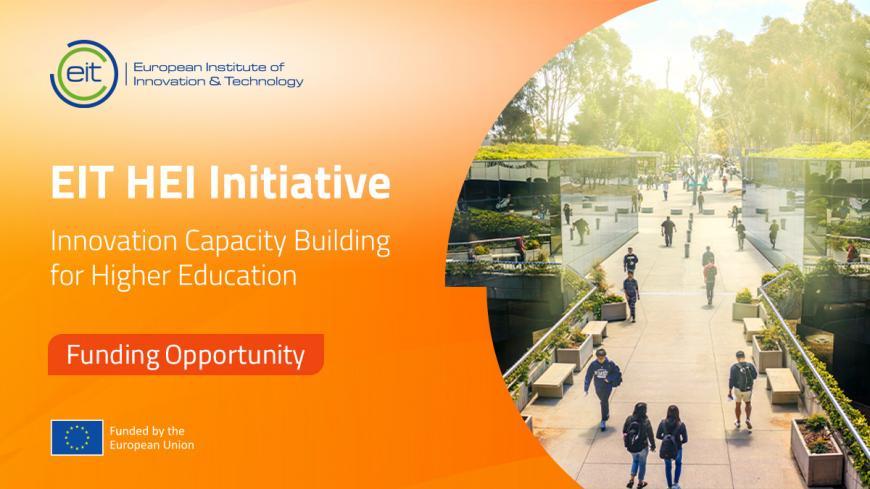 The European Institute of Innovation and Technology (EIT) represents Europe's largest innovation ecosystem by bringing together close to 3000 partners from business, research and education organisations. More than 3800 start ups and scale ups have been powered by the EIT and ventures supported by the EIT include unicorn Northvolt. Through these actions, the EIT strengthens Europe's ability to innovate and powers solutions to global challenges. The EIT is an EU body and part of the Horizon Europe programme.
Building on the success of the first round of calls launched earlier this year which saw 750 organisations apply for support, 24 projects funded involving 142 Higher Education Institutions (HEIs) and 155 non-academic organisations and a total of EUR 28.8 million in funding, mentoring and access to the EIT's innovation ecosystem mentoring, the EIT is announcing a new call for proposals!
Mariya Gabriel, European Commissioner for Innovation, Research, Culture, Education and Youth said 'Higher education institutions are at the heart of Europe's innovation and industrial ecosystems. The additional support offered by the EIT Community to boost the innovation capacity of higher education institutions across Europe is fully in line with the Commission's priorities. I look forward to seeing these priorities translated into concrete actions that will help achieve our objectives of supporting the next generation of entrepreneurs and innovators that will transform global challenges into opportunities for the future."
Gioia Ghezzi, Chair of the EIT Governing Board added "During Europe's recovery it is more important than ever that our Higher Education Institutions play an even stronger role in helping their students to become innovators and in turning research into concrete solutions.  Boosting innovation capacity in Higher Education is a key priority for the EIT and we already work with hundreds of HEIs through our Knowledge and Innovation Communities. It is therefore only natural that we mobilised Europe's largest innovation ecosystem to make a systemic impact, improving entrepreneurial and innovation capacity of HEIs. This new call will increase the number of universities we support and will help us to deliver the innovations needed for a more sustainable future."
This call for proposals will fund up to 40 projects with a maximum award of EUR 1.2 million. The funding is expected to be rolled out in 2 phases. Phase 1 will cover July to December 2022 and with a maximum of EUR 300 000 to be awarded and Phase 2 will cover January 2023 to July 2024 with a maximum of EUR 900 000 in funding.  Activities eligible for this call include:
Fostering institutional engagement and change
Strengthening partnerships between higher education, business and research organisations
Developing innovation and business support services
Enhancing the quality of entrepreneurial education
Creating and disseminating knowledge
The deadline for proposals is February 28 2022. More details and access to the application portal can be found at eit-hei.eu.
A series of information sessions covering eligibility requirements, evaluation, administration, and guidance on how to develop an Innovation Vision Action Plan will be organised to present this call in more detail and give participants the opportunity to ask any questions they may have. The dates for these sessions are:
© EIT
News details
Digital technology / specialisation
Digital skill level
Basic
Intermediate
Advanced
Digital Expert
Geographic scope - Country
Austria
Belgium
Bulgaria
Cyprus
Romania
Slovenia
Croatia
Czech republic
Denmark
Estonia
Finland
France
Germany
Greece
Hungary
Italy
Ireland
Malta
Latvia
Lithuania
Luxembourg
Netherlands
Portugal
Poland
Sweden
Spain
Slovakia
Type of initiative
EU institutional initiative