OECD Digital Education Outlook 2021: How AI, robots and blockchain can accelerate Europe's digital education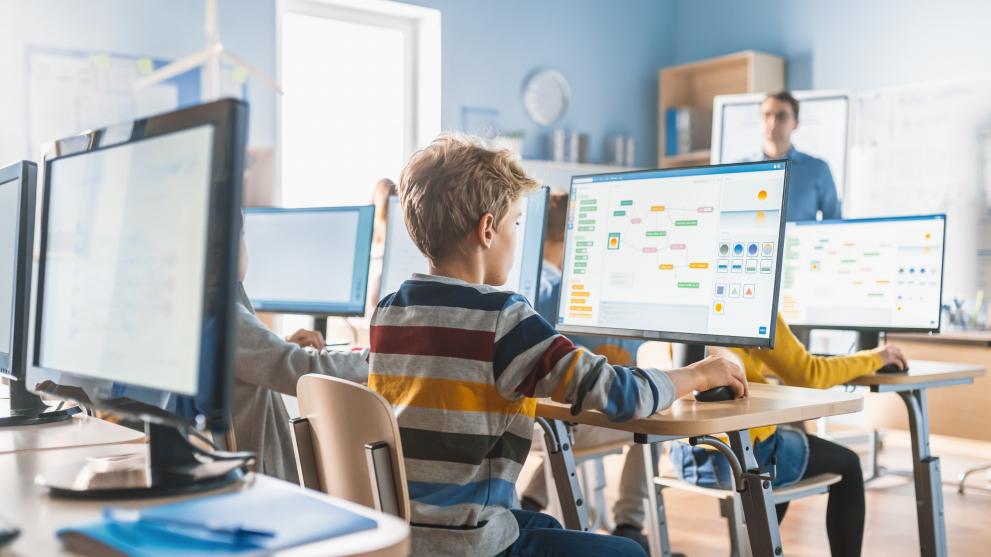 The Organisation for Economic Cooperation and Development (OECD) has released its Digital Education Outlook 2021: Pushing the frontiers with AI, blockchain and robots. The report looks at how these smart technologies can change education in the classroom and support the management of education organisations and systems. Artificial intelligence (AI), blockchain and robots have a strong potential to accelerate Europe's development and support the education of the next generation of professionals. Education is heavily saturated with data that can be optimised and analysed to boost these systems - and using new solutions can bring classrooms and education institutions up to date and ensure they are more receptive to future innovations.
What is the future of digital education in 2021?
The Covid-19 pandemic saw learning and teaching being transferred to the digital sphere and accelerated the ongoing transition to innovative digital education. Whilst this showed us that technology deserves to assume a greater presence in education, it also highlighted new concerns, such as screen fatigue, and the further perpetuation of the gap between those without the means for digital learning and the support to learn on their own. Student engagement is key for the success of teaching, and so the scope for new technologies that can assess engagement and develop individual learning plans to stimulate interest and receptivity in lessons remains open. 

The report makes it clear that schools should use the experience gathered over the past year to identify gaps and discover digital solutions to enhance their educational offerings. Two years prior to the pandemic, the OECD's TALIS survey found that only half of teachers were enabling the frequent use of technology in students' projects. In the current context, it is expected that more and more educators will look towards digital innovation: as it is not possible to optimise technology for learning without putting teachers at the centre of this process. And the coherent use of technologies within the classroom is likely to pose the most direct impact. The integration of digital technology and innovation in education allows teachers to receive and provide real-time feedback, helping them also manage the transition between various tasks and learning approaches. 
What are the technologies that are set to drive this forward?
The three areas of technology identified as essential for education in this report can all contribute to the redesign of our education systems. Enabling the next generation of professionals to acquire digital skills through the use of technology in the classroom and through projects will contribute to ensuring a long-term, sustainable flow of digitally adaptive workers. It will also help to bridge the digital divide on the grounds of socio-economic status, disability, and learning environments. By bringing technology into the classroom and integrating solutions into learning, students who would potentially need more support in terms of teaching or the physical means of learning will have some of these hurdles eliminated, ultimately creating a more equal workforce.

Artificial Intelligence

Artificial intelligence in education is already used by independent learners within simulations, games, and augmented/virtual reality (AR/VR) tools. Yet, there is a scope to integrate AI solutions much more in wide-scale education strategies. Today, AI is used to recognise what students know, how they might progress - and how they can be best supported. As AI becomes more accessible to teachers in classrooms, it has shown that it can help with lesson planning and indicating where help for certain students may still be needed, as well as assisting with marking assignments and identifying gaps in participation. AI can not only make learning more interesting and fun, but it can also promote new learning methods and bring these to the fore. Systematising AI in schools can inhibit the widely dominant 'one-size-fits-all' approach of teaching, and using computer systems in this way can give students the most relevant of learning tasks for the current stage of development.

Teachers themselves can benefit directly from the integration of AI computer systems in schools – hence why their participation in the design of these systems is essential, to ensure they can reap the benefits. Clear feedback that would be more time-consuming to identify manually can be made available to teachers, for instance, on exactly which parts of assignments students are struggling with, that perhaps more lesson time should be devoted to. Moreover, the gamification of learning can help teachers develop new fun learning approaches for students, in turn boosting interest and engagement in topics that may otherwise be considered challenging to teach.
Robots 

Robots in the classroom can offer teachers assistance that could be difficult to acquire through other means; presently, robots are used to enthuse children about STEM subjects, and support teaching on specific topics. Should one or a group of students be struggling with a topic, mastered by the majority of the class, a robot will facilitate more opportunities to work on the areas they need, enabling smaller sessions to develop the skills at their own pace. Currently, there are no large commercial plans to use robots in formal education institutions, however, the nature of them being physical and social encourages interaction with learners that enhances outcomes.

Robots in education systems also has the potential to provide extra assistance and support regarding students with disabilities or learning difficulties – not only for the students but also for teachers. The use of robots combined with AI can offer more learning support to students with disabilities, and provide the time to work on topics they should focus on. Additionally, teachers will benefit from solutions that interpret hand signals, body language and other factors, assisting their teaching and ensuring no student need is ever left unanswered. 
Blockchain

Blockchain has the capacity to create interoperable, user-controlled digital credentials, putting the control fully in the hands of users of these solutions as to how they manage their data and certifications. Blockchain can make lifelong learning a more mainstream and acceptable option for learners and supports a more fluid and accessible employment market. The pandemic has made clear that having access to secure, digitally-transferable data and trusted sources is essential. Therefore, blockchain as a solution gives learners the option to engage in a system that is being prominently picked up by institutions across the world, making participation in new systems all the more appealing.

It should be noted that the cost of creating and operating blockchain networks can be heavy, so private solutions may become rarer. However, this does create the potential upside in that public blockchain networks could be the norm, giving access to education systems and lifelong learning opportunities that many citizens have not had in the past.

Many beneficial uses of smart technologies in education systems can be found in this report, and guidance comes not only for teachers but also for policymakers, educational institutions, and even private organisations seeking to rollout solutions. The ideas noted in the report make clear how we can use smart technologies to advance learning and inclusion in schools, and manage learning plans in such a way that digital is utilised in the classroom to help students and teachers achieve the best outcomes.

© Gorodenkoff - stock.adobe.com
News details
Digital technology / specialisation
Geographic scope - Country
Austria
Belgium
Bulgaria
Cyprus
Romania
Slovenia
Croatia
Czech republic
Denmark
Estonia
Finland
France
Germany
Greece
Hungary
Italy
Ireland
Malta
Latvia
Lithuania
Luxembourg
Netherlands
Portugal
Poland
Sweden
Spain
Slovakia
Albania
Belarus
Bosnia and Herzegovina
Canada
Iceland
Israel
Japan
Kosovo
Montenegro
Morocco
North Macedonia
Norway
Serbia
Switzerland
South Korea
Russia
Tunisia
Turkey
Ukraine
United Kingdom
USA
Geographical sphere
International initiative