#ThinkB4UClick: European Cybersecurity Month 2021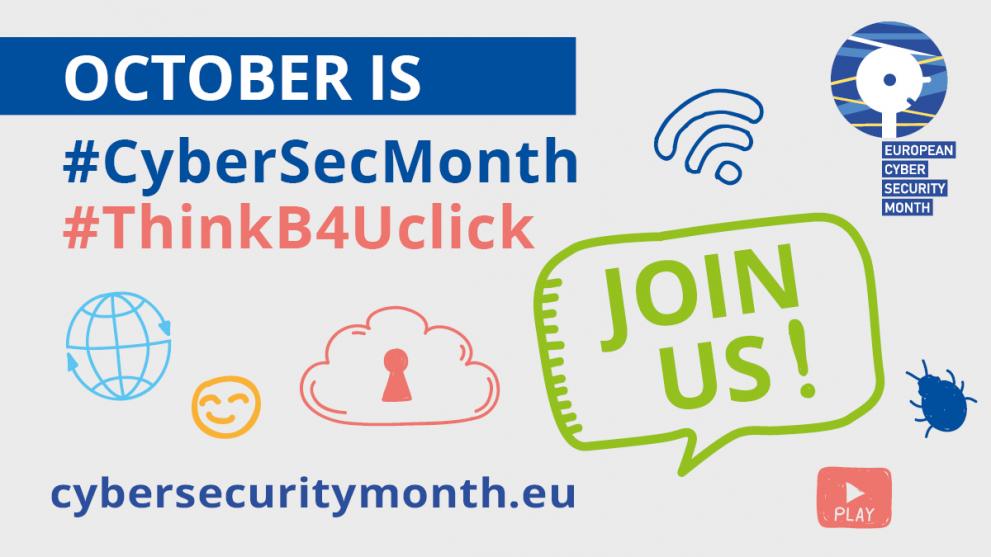 The European Cybersecurity Month (ECSM) is the European Union's annual campaign dedicated to promoting cybersecurity among EU citizens and organisations, and it presents initiatives from the European Union Agency for Cybersecurity (ENISA) and the European Commission, who are the organisers, but also the participating countries. The goal is to share information and spread awareness on the many aspects of online security for citizens, organisations and companies.

With the title  #ThinkB4UClick, the 2021 edition has two main themes: First aid, all about guidelines on what to do if one falls victim of a cyber-attack, and Be cyber-secure at home. The two topics emerged as a fundamental response after the pandemic,which has brought online more and more citizens in Europe and worldwide, but often without any coaching on the risks that may arise. Information is key in this regard, and the useful content of the #CyberSecMonth 2021 website includes, among the many resources, an extensive section with a "First aid" map of Europe. For each country it is possible to find useful contacts for any cybersecurity-related issue, from shopping to bank frauds, to what to do if your social media has been hacked.

The 'Being Cyber Secure From Home' part of this year's campaign is instead focused on tips and tricks to stay cyber secure in our everyday life, such as when doing online transactions, communicating, working or studying online, with useful advice on good "cyber hygiene" for everyday practices online.
Another part of the initiative is the European Cyber Security Challenge, which this year will be at it's 6th edition and will be hosted by the Czech Republic. The Challenge is the annual European event that brings together young talent from across Europe to have fun and compete in cybersecurity. 
For the Challenge, top cyber talents from each participating country will meet in Prague to network and collaborate and finally compete against each other. They will be challenged in solving security related tasks from domains such as web security, mobile security, crypto puzzles, reverse engineering and forensics and in the process collect points for solving them.

The invitation to be part of the Cybersecurity Month is open to everyone: interested organisations can contribute by proposing their own local or national initiative, making Cybersecurity Month a lively participated initiative.
Finally, the initiative platform includes a specially made training for all citizens on 4 essential measures that we all need to learn to do more safely, the Get Cyber Skills campaign will launch on Monday 8th October and citizens will be able to learn about:

1. Password management
2. Backing up data
3. Privacy settings
4. Protecting against social engineering

@ ENISA
News details
Digital technology / specialisation
Geographic scope - Country
Austria
Belgium
Bulgaria
Cyprus
Romania
Slovenia
Croatia
Czech republic
Denmark
Estonia
Finland
France
Germany
Greece
Hungary
Italy
Ireland
Malta
Latvia
Lithuania
Luxembourg
Netherlands
Portugal
Poland
Sweden
Spain
Slovakia
Geographical sphere
EU institutional initiative