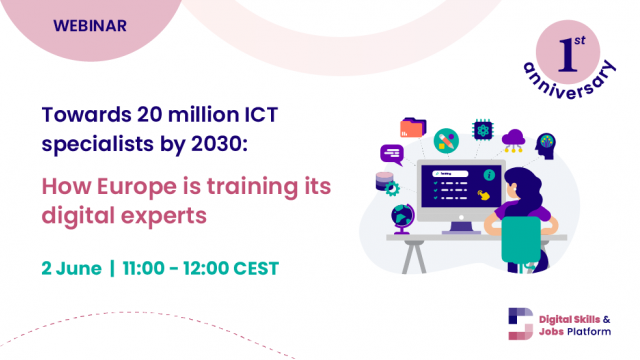 This webinar shows how Universities and Digital Innovation Hubs are responding to the shortage of digital experts to make sure Europe reaches at least 20 million ICT specialists by 2030. 
Upcoming events
Upcoming
The Alex Hotel, 41-47 Fenian Street, D02 H678, Dublin 2, Co. Dublin, Ireland
The Gibson Hotel, Point Village, D01 X2P2, Dublin 1, Co. Dublin, Ireland
Upcoming
3 Mazarine, Paris 6, France
Community activities
Organization: Internet Society Foundation Area of focus: digital inclusion/digital skills Target countries: Brazil, Ghana, Indonesia Name of...
Hello! I want to share with you the following Project. We are looking for Training Organizations willing to join the platform (it is free...
What is the Digital Skills and Jobs Platform
DSJP is for anyone who is interested in digital skills. It provides open access to high quality information, training and support to help users advance their knowledge, further their careers, and add value to their organisation.
What people are saying about digital skills