European Cyber Security Month (ECSM)

The European Cyber Security Month (ECSM) is an annual campaign of the European Union, coordinated by ENISA (the European Union Agency for Cybersecurity) together with the European Commission. ECSM's aim is to promote cybersecurity understanding amongst European citizens and organisations, through up-to-date information on developments in online security, awareness-raising, and sharing of good practices. The ECSM annual campaign brings together a variety of stakeholders, researchers, companies, organisations, public and private sector representatives across Europe to streamline actions on cybersecurity and encourage further cooperation on all levels.
ESCM annual campaign 
Since the campaign's start in 2012, the European Cyber Security Month has launched hundreds of activities in various formats (conferences, workshops, trainings, webinars, presentations and others) to promote online safety and digital security for all. The campaign's activities take place throughout the month of October, focusing on themes central to cybersecurity, such as online risks and threats to businesses, digital skills for online safety, or security of data and information. Outputs by the activities are available through a searchable resource database, in which resources produced throughout the campaign can be filtered according to language, country, format of delivery, or type.
European Cyber Security Month 2021 
The ECSM 2021 takes place throughout October under 2 main themes: 'Being Cyber Secure From Home' and 'First Aid guidelines of what to do in the case of a cyberattack'. Activities aim to raise awareness of cyber threats and cybersecurity approaches, especially in the context of distance learning and remote work as a result of the COVID-19 pandemic, and build trust in reliable online services.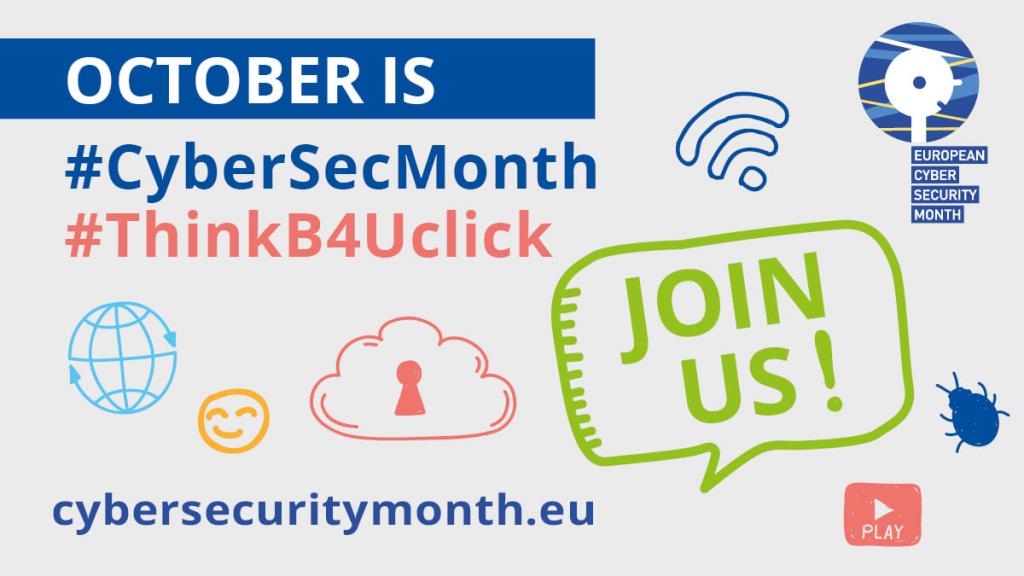 How to get involved
Join an event, organised under the umbrella of the European Cybersecurity Month 2021 by browsing through the rich repository of activities taking place in different countries. You can also register your own event, using the hashtag #ThinkB4UClick. 
Initiative Details
Target audience
Digital skills for the labour force.
Digital skills for ICT professionals and other digital experts.
Digital skills in education.
Digital skills for all
Digital technology / specialisation
Geographic scope - Country
Austria
Belgium
Bulgaria
Cyprus
Romania
Slovenia
Croatia
Czech republic
Denmark
Estonia
Finland
France
Germany
Greece
Hungary
Italy
Ireland
Malta
Latvia
Lithuania
Luxembourg
Netherlands
Portugal
Poland
Sweden
Spain
Slovakia
Industry - field of education and training
Information and Communication Technologies (ICTs) not further defined
Software and applications development and analysis
Geographical sphere
EU institutional initiative