Do young people in the EU have digital skills? (2020) | Digital Skills & Jobs Platform

This eurostat statistics shows data on digital literacy among young people in Member States. Before the pandemic (2019) , four in five young people (80%) aged 16 to 24 in the European Union (EU) had basic or above basic digital skills. This was 24 percentage points (pp) higher than the share of individuals aged 16 to 74 (56%).
Croatia had the highest share of individuals aged 16 to 24 with basic or above basic overall digital skills (97%), followed by Estonia, Lithuania and the Netherlands (all three 93%) as well as Greece (92%).
By contrast, the lowest shares were observed in Romania (56%), Bulgaria (58%), Italy (65%), Hungary (68%), Latvia and Luxembourg (both 75%).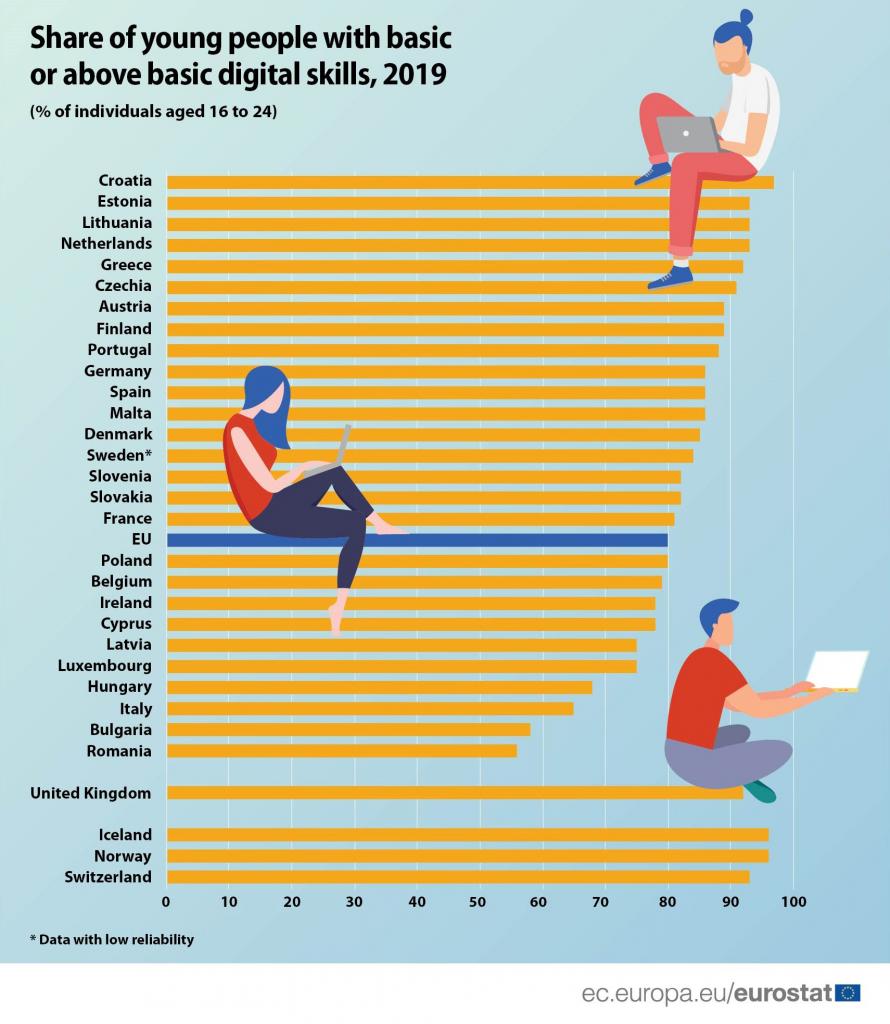 Skills intelligence publication details
Digital technology / specialisation
Geographic scope - Country
Austria
Belgium
Bulgaria
Cyprus
Romania
Slovenia
Croatia
Czech republic
Denmark
Estonia
Finland
France
Germany
Greece
Hungary
Italy
Ireland
Malta
Latvia
Lithuania
Luxembourg
Netherlands
Portugal
Poland
Sweden
Spain
Slovakia
Industry - field of education and training
Literacy and numeracy
Personal skills and development
Type of initiative
EU institutional initiative