AI in Higher Education: Adopting and Adapting - webinar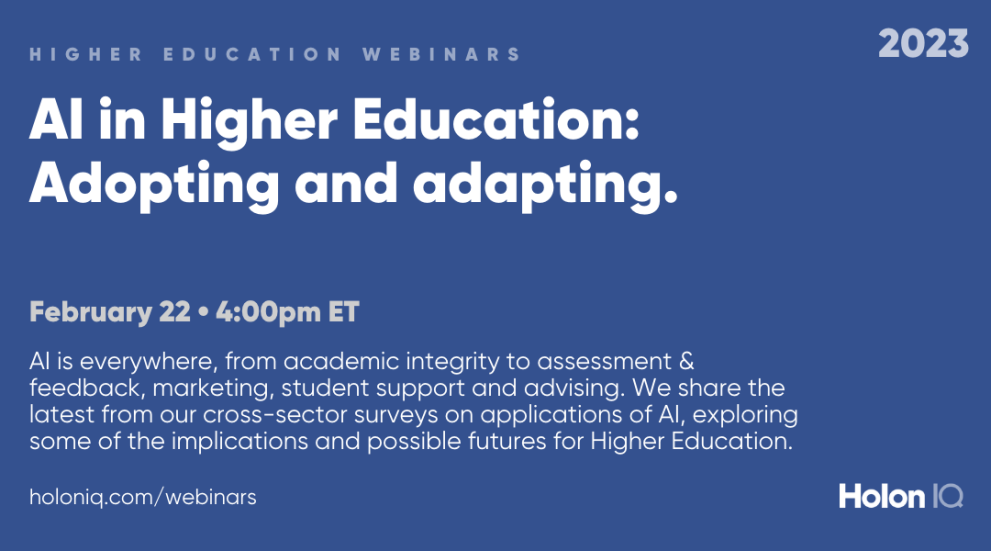 In 2019, research with the HolonIQ Global Executive Panel identified education as an obvious area for the application of artificial intelligence, with the potential to improve access, reduce cost and accelerate learning outcomes. 
With huge advances in AI capabilities and broader awareness of the applications and possibilities in the last few years, AI has become central to University discussions on everything from academic integrity to assessment & feedback, student support and advising, marketing, and many other aspects of the learning experience. This free webinar shares the latest from HolonIQ's cross-sector surveys on applications of AI, and explores some of the implications and possible futures for Higher Education.
Event Details
Target audience
Digital skills in education.
Digital technology / specialisation
Geographic scope - Country
Austria
Belgium
Bulgaria
Cyprus
Romania
Slovenia
Croatia
Czech republic
Denmark
Estonia
Finland
France
Germany
Greece
Hungary
Italy
Ireland
Malta
Latvia
Lithuania
Luxembourg
Netherlands
Portugal
Poland
Sweden
Spain
Slovakia
Albania
Belarus
Bosnia and Herzegovina
Canada
Iceland
Israel
Japan
Kosovo
Montenegro
Morocco
North Macedonia
Norway
Serbia
Switzerland
South Korea
Russia
Tunisia
Turkey
Ukraine
United Kingdom
USA
Industry - field of education and training
Generic programmes and qualifications not further defined
Geographical sphere
International initiative