International Conference on AI in Work, Innovation, Productivity and Skills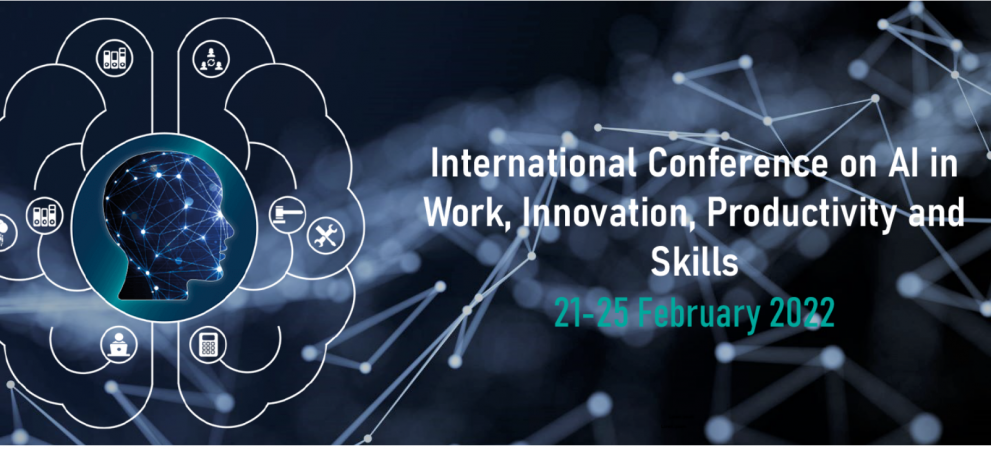 The International Conference on AI in Work, Innovation, Productivity and Skills will take place from 21 – 25 February 2022, with a programme of leading voices from the technical, policy, business, academic and civil society communities to present insights on the use of AI in organisations and the workplace, the ethics involved in its use and the implications of AI on skills, business dynamics and productivity. 
This conference aims to further a multi-disciplinary and evidence-based policy debate to increase AI adoption in the world, as part of the OECD AI in Work, Innovation, Productivity and Skills (AI-WIPS) project. The conference will be an opportunity to discuss evidence emerging from the AI-WIPS project on the advantages and risks of different types of AI systems, the characteristics of AI adopters and the impact on productivity, and on the skills needed to adjust to the fast-paced changes in the world of work. The conference will also host the launch of the OECD AI Systems Classification Framework. 
Hosting experts from around the world, the conference will highlight learnings and exchanges on how we can build collaboratively and apply trustworthy and resilient AI systems that are suitable for the world as it changes rapidly. 
Day 1: February 21, 2022
13:00 - 13:30 Conversation with Jim Bessen on AI, Innovation, Productivity, and Work
13:45 - 14:45 AI, productivity, and diffusion
15:00 - 16:00 Discrimination and AI in the workplace
16:15 - 17:15 Informing AI policy: Data in education, jobs, software development and more
17:30 - 18:00 Conversation with Daron Acemoglu on AI, automation and skills
Day 2: February 22, 2022
13:45 - 14:45 Benchmarks and competitions: How do they help us evaluate AI?
15:00 - 16:00 AI adoption in industry and a new firm survey
16:15 - 17:15 Training for AI adoption in enterprises
17:30 - 18:30 Enabling effective AI policies: Launch of the OECD Framework for Classifying AI Systems
Day 3: February 23, 2022
13:45 - 14:15 Conversation between Marjory Blumenthal and Professors Ross King and Hiroaki Kitano on the growing importance of AI in science
14:30 - 15:30 Shaping coherent policies for AI: High-level Ministerial session
15:45 - 16:45 AI for labour market matching
17:00 - 18:00 Can AI Read and Count? Assessing Computers with an OECD Test
Day 4: February 24, 2022
13:45 - 14:45 High-level session - The future of AI: Stakeholder perspectives
15:00 - 16:00 AI and social partners
16:15 - 17:15 AI, business dynamics and competition
17:30 - 18:00 Conversation with Christo Wilson on Algorithmic Auditing
Day 5: February 25, 2022
15:30 - 17:00 Ethics of AI in the workplace: How should policy respond? 2nd OECD expert meeting on AI in the workplace
Register here: https://oecd-events.org/2022-ai-wips/registration/registration 
 
@ OECD
Event Details
Target audience
Digital skills for the labour force.
Digital skills for ICT professionals and other digital experts.
Digital skills for all
Digital technology / specialisation
Geographic scope - Country
Austria
Belgium
Bulgaria
Cyprus
Romania
Slovenia
Croatia
Czech republic
Denmark
Estonia
Finland
France
Germany
Greece
Hungary
Italy
Ireland
Malta
Latvia
Lithuania
Luxembourg
Netherlands
Portugal
Poland
Sweden
Spain
Slovakia
Albania
Belarus
Bosnia and Herzegovina
Canada
Iceland
Israel
Japan
Kosovo
Montenegro
Morocco
North Macedonia
Norway
Serbia
Switzerland
South Korea
Russia
Tunisia
Turkey
Ukraine
United Kingdom
USA
Industry - field of education and training
Generic programmes and qualifications not further defined
Geographical sphere
International initiative