Commission presents new EU strategy on Web 4.0 and Virtual Worlds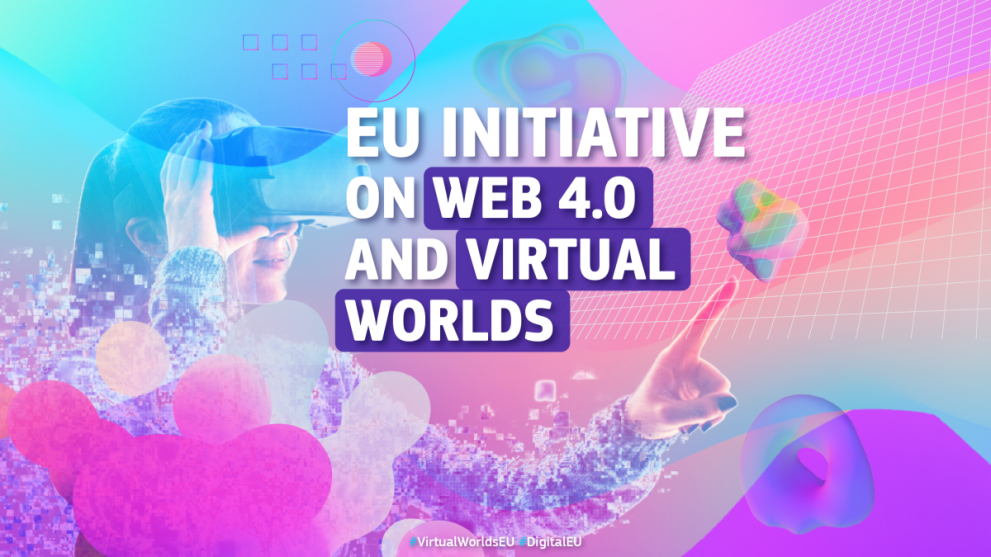 Things have not stood still ever since Facebook's prodigy child, Mark Zuckerberg, started talking about the 'Metaverse'. But what exactly is it? The word is used to describe a fully realised digital world, which exists beyond the one we live in. Think of a new, more interactive and even real, internet if you wish - an internet where you can meet your friends anywhere in the world, start a conversation with anyone, take a walk through a place you've always wanted to visit. Or why not meet your favourite artists and try out playing with them, live on stage? 
We may not be able to travel (yet) at the snap of our fingers in the real world, but this becomes possible in the metaverse. Virtual worlds are indeed gaining traction: they are also becoming more and more sophisticated, with clearer images and avatars that resemble real people. The European Commission estimates more and more people will be using the metaverse daily by 2030 - a new type of digital transition, with new challenges, and new opportunities. 
Virtual worlds help us do better in the real world
The internet is evolving at an extremely fast pace. With Web 3.0, or the Internet's third generation, the main features of our online environment are rooted in openness, decentralisation, and user empowerment. Web 4.0, the next step in the iteration, allows us to go even further - integrating digital objects with physical ones, merging virtual environments with real ones, and allowing for an enhanced interaction between humans and machines, in a way we have not seen before. Challenges remain, but opportunities are equally huge and cross over sectors. Digitalisation is a key driver of EU competitiveness, and as a main technological transition, Web 4.0 opens up the door to a "seamlessly interconnected, intelligent, and immersive world". The global virtual worlds market size is estimated to grow from €27 billion in 2022 to over €800 billion by 2030.
In medicine, virtual worlds allow medical students and trained staff to test how they respond to emergency situations and perform innovative surgeries without posing an actual risk to the patient. This equals fewer chances of surgical complications and supports more accurate diagnosis. Look at literally any sphere - virtual worlds can help us reach the solutions that may be too costly to apply, or too dangerous to test out in real life. 3D models can mirror the effects of global warming, helping scientists' understanding of the key issues in climate change, and how to mitigate them. Virtual worlds can also translate into less waste in energy, materials and resources throughout industrial sectors. In manufacturing, virtual worlds may cut the carbon footprint of the industry in half by 2025. The possibilities in education are endless too: teachers and students can take part in a more interactive learning process, which builds experience and accelerates their understanding of the world and subject area. 
A new strategy on virtual worlds and Web 4.0 that reflects core EU values  
The metaverse, and this closer integration between our physical and virtual worlds, is bound to impact the way we live and work with one another, and brings about a range of potential issues, but also opportunities. On 11 July 2023, the European Commission issued a press release announcing the adoption of a new strategy on Web 4.0 and virtual worlds and a vision to not only drive forward the next technological transition, but ensure an "open, secure, trustworthy, fair and inclusive digital environment for EU citizens, businesses and public administrations". 
This new strategic vision aims to see a Web 4.0 and the metaverse as spaces, which reflect core EU values and principles, and environments where people's human rights apply fully and EU businesses can thrive in. The Commission's strategy is aligned with other key EU initiatives and strategic visions, such as the Digital Decade targets and policy programme and will support a range of actions and priorities to make Europe (and its virtual worlds) fit for the digital future. 
A roadmap to make Europe and its virtual worlds fit for the digital future
A key priority embedded in the strategy is to empower people and provide access to skills that foster awareness, critical thinking and the ability to assess information, and build a talent pool of virtual world specialists. Metaverse experts are key to building virtual worlds that work for EU citizens as a whole: and the Commission will set up a talent pipeline together with Member States to support skills development (like programs targeting women and girls funded via the DIGITAL Europe Programme, or programs supporting digital content creators via the Creative Europe Programme).  
To aid businesses and support them in making the most out of the metaverse, the Commission's strategy will aim to kickstart and scale up an EU-wide industrial Web 4.0 ecosystem, based on excellence and addressing fragmentation. At the moment, the European Union is lacking such an EU ecosystem to bring together all players throughout the value chain of virtual worlds and Web 4.0. A proposed Partnership on Virtual Worlds funded via the Horizon Europe programme of the European Union may be launched as of 2025 to promote excellence and quality in research and inform the development of a roadmap for virtual worlds. Digital creators and EU media will also get assistance and funding to test new tools, improve dialogue and collaboration between developers and industrial users, and develop regulatory sandboxes for Web 4.0 and virtual worlds. 
Supporting societal progress and developing virtual public services to match and utilise the opportunities the metaverse offers is another priority of the new EU strategy. This is already evidenced in EU investment through major initiatives (like Destination Earth (DestinE), Local Digital Twins for smart communities, or the European Digital Twin of the Ocean to allow researchers to advance science, industries to develop precision applications and public authorities to make informed public-policy decisions. The Commission is launching two new public flagships: "CitiVerse", an immersive urban environment that can be used for city planning and management; and a European Virtual Human Twin, which will replicate the human body to support clinical decisions and personal treatment.

Finally, the new EU strategy aims to shape global standards for open and interoperable virtual worlds and Web 4.0 and ensure they will not be dominated by a few big players, leaving everyone else behind. The Commission plans to improve collaboration amongst global internet governance stakeholders and foster the development of Web 4.0 standards that are aligned with our core EU values and principles. 
More on this topic 
The strategy builds on the work of the European Commission on virtual worlds and consultations with citizens, academia and businesses. The Commission hosted a European Citizens' Panel on Virtual Worlds between February and April 2023 and invited 150 randomly selected citizens to formulate recommendations on a vision, principles, and actions to ensure that virtual worlds in the EU are fair and fit for people. Their 23 recommendations have guided specific actions included in the strategy on Web 4.0 and virtual worlds. On 14 September 2022, the European Commission launched the Virtual and Augmented Reality Industrial Coalition bringing together industry and policymakers with a shared goal. 
Take a look also at this new report from the Joint Research Centre of the European Commission, which explains the opportunities and changes the next generation of virtual worlds may bring in different sectors such as education, manufacturing, health, and public services. 
News details
Digital technology / specialisation
Geographic scope - Country
Austria
Belgium
Bulgaria
Cyprus
Romania
Slovenia
Croatia
Czech republic
Denmark
Estonia
Finland
France
Germany
Greece
Hungary
Italy
Ireland
Malta
Latvia
Lithuania
Luxembourg
Netherlands
Portugal
Poland
Sweden
Spain
Slovakia
Geographical sphere
EU institutional initiative