Commission puts forward declaration on digital rights and principles for everyone in the EU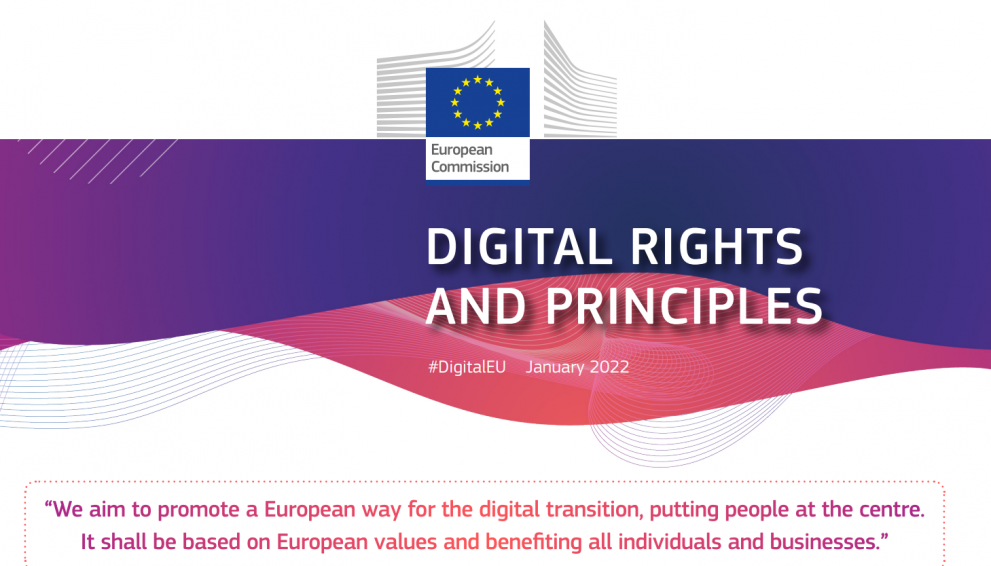 On 26 January 2022, the European Commission proposed to define a set of principles for a human-centred digital transformation. This European Declaration on Digital rights and principles would be a reference framework for people, and a guide for businesses and policy-makers.
Putting people at the centre of the digital transition is a key priority for the European Commission. The digital transformation should be shaped according to our European values and laws. That is why, to truly benefit everyone from digital transformation, Europe needs a skilled workforce, digitally savvy citizens, and that everyone has a clear point of reference on what kind of digital transformation Europe promotes and defends.
This Declaration responds to the calls from the European Parliament to ensure full compliance of the EU's approach to digital transformation with fundamental rights, as well as to enhance digital skills and competences and foster a high-performing digital education ecosystem.
Executive Vice-President for a Europe Fit for the Digital Age, Margrethe Vestager, said: "We want safe technologies that work for people, and that respect our rights and values. Also when we are online. And we want everyone to be empowered to take an active part in our increasingly digitised societies. This declaration gives us a clear reference point to the rights and principles for the online world."
Commissioner for the Internal Market, Thierry Breton, added: "We want Europeans to know: living, studying, working, doing business in Europe, you can count on top class connectivity, seamless access to public services, a safe and fair digital space. The declaration of digital rights and principles also establishes once and for all that what is illegal offline should also be illegal online. We also aim to promote these principles as a standard for the world."
The declaration builds on the digital targets set out by the Digital Decade to reach a digitally transformed Europe by 2030, and on the experience of the European Pillar of Social Rights.
Rights and principles for a better digital transformation
The Declaration puts forward digital principles, to serve all Europeans, along the following lines in particular:
putting people at the centre of the digital transformation; 
solidarity and inclusion;
freedom of choice;
participation in the digital public space;
safety, security and empowerment;
sustainability.
These rights and principles should accompany European people in their everyday life, fostering participation of everyone in the digital public space, increasing safety, security and empowerment of individuals, and promoting the sustainability of the digital future.
With this Declaration on Digital Rights and Principles, the Commission puts forward both a reference framework for people and a guide for businesses and policy makers, with the aim of placing people at the centre of digital transformation.
As a next step, the Commission invited the Council and the European Parliament to discuss the draft declaration, and to endorse it at the highest level by this summer.
News details
Digital technology / specialisation
Geographic scope - Country
Austria
Belgium
Bulgaria
Cyprus
Romania
Slovenia
Croatia
Czech republic
Denmark
Estonia
Finland
France
Germany
Greece
Hungary
Italy
Ireland
Malta
Latvia
Lithuania
Luxembourg
Netherlands
Portugal
Poland
Sweden
Spain
Slovakia
Geographical sphere
EU institutional initiative