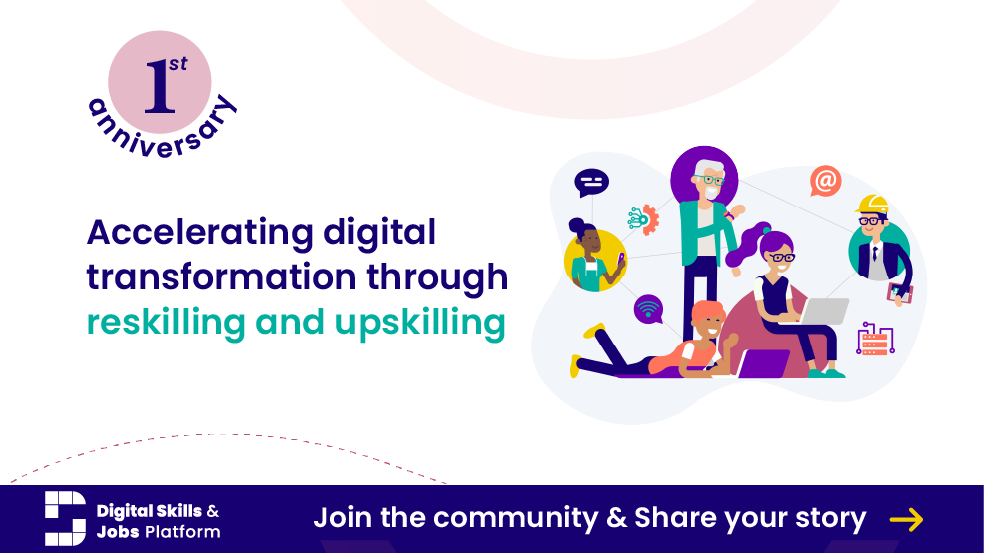 Welcome to the discussion group on accelerating Digital Transformation through reskilling & upskilling!
We have created this group so that all our community members can share concrete, real-life examples and stories of initiatives that aim to reskill or upskill people of all ages and walks of life.
We want to hear from you if:
you work for an organisation (private, public or non-profit) that is involved in organising digital upskilling / reskilling programmes and initiatives;
you work for a training provider or educational institution working in digital skills;
you have taken part in an initiative or programme to learn a new digital skill, or if you have undertaken training to change your career;
This discussion space is open to registered users of the platform and we welcome stories from all European countries (and beyond too!). It will be a living laboratory for creative brainstorming!

The goal is to use this discussion space to create a library of upskilling and reskilling tools and resources for different audiences. So, whether your initiative was a Master course in advanced digital skills, or a neighbourhood project to teach children about Internet safety, please tell us about it!
Join the conversation in three easy steps:
1. Sign upfor the Digital Skills and Jobs Platform here if you are not already a member.
2. Join this discussion group by clicking on the blue 'Join Group' button on the top right-hand corner of this page.
3. Share your story and exchange experiences on this topic.
Tip: do not forget to click Subscribe on top of the page of the discussion you want to follow, simply click on the pink bell; this way you will receive updates in your mailbox when someone else contributes to this discussion (and only this discussion).