Teaming up for digital skills - How public authorities and companies work together to digitally upskill population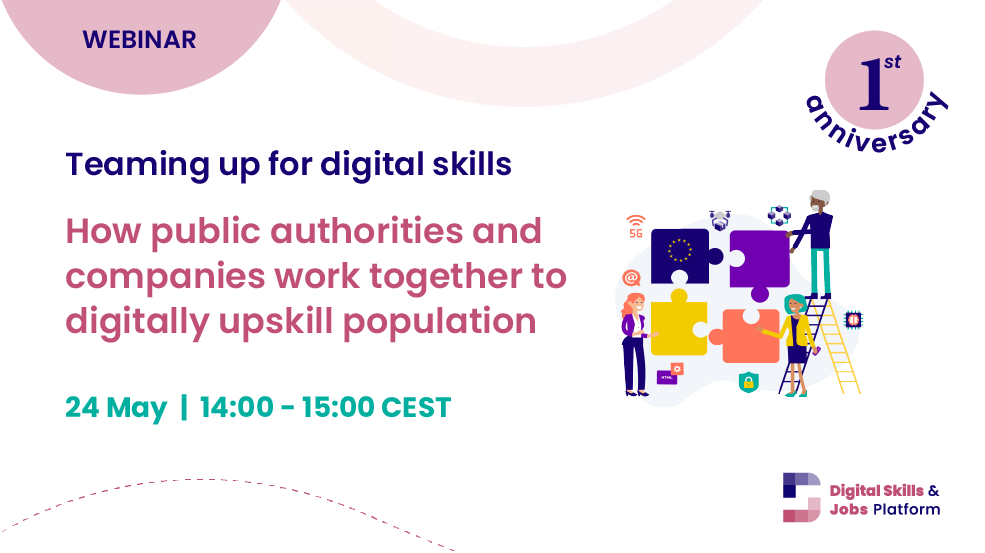 A joint effort on the ground gathering all actors is needed to make sure that people are equipped with the right skills for mastering digital technologies and make the most out of it. Usually, these forces come together through partnerships between the public sector (local and regional authorities, state-backed agencies) and private companies. These collaborations ensure that each part of the society brings its strengths to the table, thus maximising the impact of their actions. 
EIT Digital was invited to present how such succesfull collaboration happens beyond national borders, being it the largest pan-European digital innovation ecosystem, gatheirng more than 300 partners to deliver their succesfull training programs. Academia and the Public sector bring the capacity to deliver trainings to a wider audience, whereas the industry participates to make sure the trainings are in line with the real time market needs. 
The event then moved to the National perspectives, where members of the National Coalitions for Digital Skills and Jobs from Belgium, Greece and Italy had presented some of the flagship initiatives in place in their respective countries. Partnerships can be variagated to make sure each actor can put its specific strenghts to the table, also considering the social and cultural specificities of each Member State. 
Belgium shared an interesting insight on how the government of the city of Brussels has onboarded labour organisations in the process, for workers rights to be represented when talking about their professional development. 
A different angle was introduced by Greece by focusing on public servants´ trainings. People working in the public administration need to be equipped with the right set of skill to be able to steer the digital transformation of their countries and Ministerial departments. They aim to train 20,000 civil servants in cloud technologiesby 2025 thanks to their partnership with Microsoft.  
Last but not least, Italy presented some of its local partnerships involving the Third Sector, which plays a strong part in the italian social ecosystem thanks to its strong boundaries with the local communities and citizens from the poorest areas. Inclusiveness is the key word for the italian approach. 
Do you have a story on the public and the private working together to share with us? Use the comments below to tell us! 
Have you had the chance to participate in a training program jointly organised by the public and the private sectors? Share your experience with us!
Are you a Public organisation or a business eager to contribute to the Digital Decade by delivering timely digital skills training? Share your questions in this thread to learn from established good practices at European and National level! 
Watch the recording and get inspired by the presentations held during the event!