Ireland
Ireland is among top performers on basic digital skills, ranking 3rd in the EU's Digital Economy and Society Index (DESI), with 70% of the population possessing basic digital skills. The percentage of ICT specialists in the workforce is 6.3%, higher than the EU average.  
The National Digital Strategy, 'Harnessing Digital - The Digital Ireland Framework,' supports Ireland's goal of becoming a leader in digital developments. It emphasizes digital transformation in business, infrastructure, skills, and public services. 
In Ireland various initiatives like the Digital Strategy for Schools, STEM Education Policy, Technology 2022 Ireland's Third ICT Action plan, and Action Plans for Apprenticeship,  Skillnet Ireland Programmes; and eCollege, aim to enhance digital skills in education.  
Moreover, the Irish Recovery and Resilience Plan emphasizes digital transformation with measures for high-level ICT skills, providing laptops to disadvantaged students, and improving overall digital skills. The National Challenge Fund fosters research and collaboration for societal and economic challenges in the green and digital transitions, investing in digital infrastructure and school funding. Additionally, the Government Data Centre project focuses on environmentally efficient technology use, delivering high-quality data centre facilities and reducing greenhouse gas emissions. 
Score in DESI Report Human Capital
The latest trends in digital skills in Ireland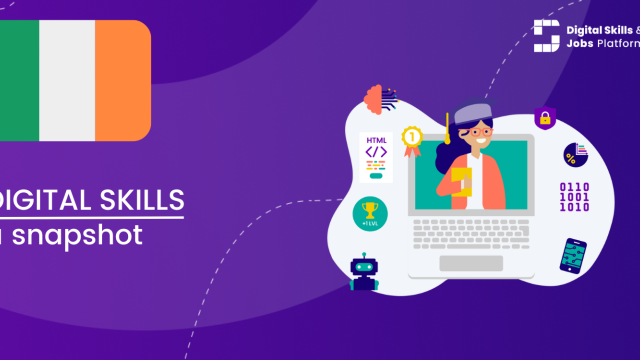 An overview of state strategies and national initiatives on digital Skills in Ireland: state strategies, national strategies and funding opportunities.
Good practices in Ireland