'Enhance your digital skills!' - ALL Digital Weeks 2022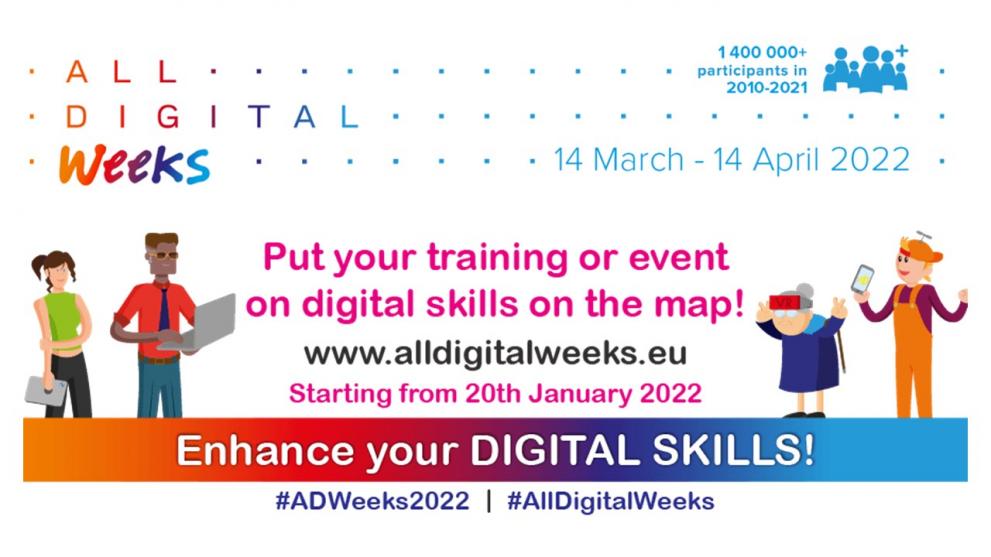 Each year, ALL DIGITAL organises the ALL DIGITAL Weeks campaign. Endorsed by the European Commission, the campaign gathers over 100.000 participants from more than 20 countries in Europe, with many local and national activities taking place: from virtual and in-person events and conferences, to workshops on the themes of the digital transformation and its impact.
The 2022 edition takes place between 14 March and 14 April 2022 and will explore the importance of continuously improving one's digital skills throughout jobs, occupations, and stages of life. 
Why All Digital Weeks 2022? 
The campaign this year aims to raise awareness of the impact of the digital transformation, especially in the context of how much the COVID-19 pandemic in Europe in 2020 and 2021 ended up accelerating this shift. Today, digital skills are needed in the everyday life of everyone, regardless of their age, background, or EU Member State - students, employees, entrepreneurs, everyday people. Still though, 42% of Europeans lack basic digital skills and digital literacy - and 90% of jobs in Europe require a certain degree of digital skills. 
Map of activities
International, national and local events and trainings focusing on the specific campaign's thematic areas will be visible and clickable on the map available on the campaign's website. 
Launch event 
An international launch event will be organised in the week of 14 March 2022, with keynote speakers from the European institutions, academia and research organisations, and industry and social experts, who will discuss the role of digital skills, up- and re-skilling strategies, and others. 
Five weeks, five topics
The 5 different weeks of the campaign will focus on the following specific weekly core themes under which all the training and events will be organised at international and national level across Europe:
Enhancing digital skills and promoting digital inclusion and accessibility
Fostering digital literacy and tackling disinformation
Promoting the use of the European Digital Competence Framework (DigComp) and exploring the development of the European Digital Skills Certificate (EDSC)
Achieving cybersecurity and safer internet
Improving STEM and STE(A)M skills for society and encouraging girls' and women's participation in STEM studies and careers
More information about the events and activities taking place can be found on ALL DIGITAL Week's website. 
© ALL DIGITAL
Event Details
Target audience
Digital skills in education.
Digital skills for all
Digital technology / specialisation
Geographic scope - Country
Austria
Belgium
Bulgaria
Cyprus
Romania
Slovenia
Croatia
Czech republic
Denmark
Estonia
Finland
France
Germany
Greece
Hungary
Italy
Ireland
Malta
Latvia
Lithuania
Luxembourg
Netherlands
Portugal
Poland
Sweden
Spain
Slovakia
Albania
Belarus
Bosnia and Herzegovina
Iceland
Kosovo
Montenegro
North Macedonia
Norway
Switzerland
Turkey
Ukraine
Industry - field of education and training
Information and Communication Technologies (ICTs) not further defined
Geographical sphere
International initiative