Information security in the structure of education - Conference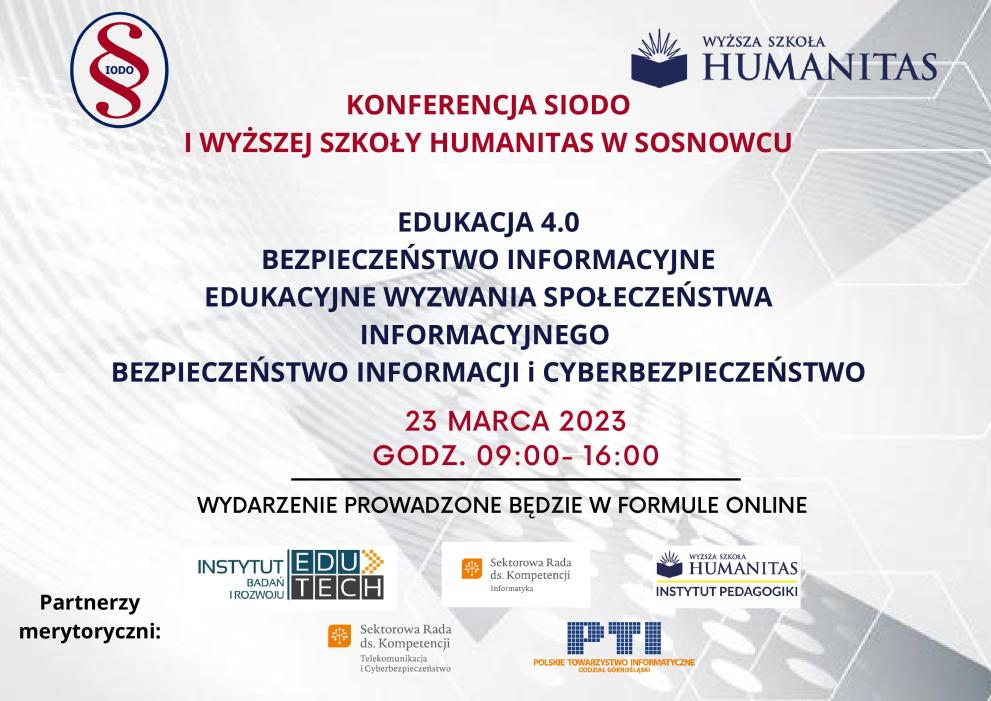 Organised by Polish organisation SIODO (Stowarzyszenie Inspektorów Ochrony Danych Osobowich), the conference "Information security in the structure of education" will take place on 23 March 2023 with a wide program and 4 panels on different aspects of the debate on the topic and its implications for the Polish labour, business, and IT sectors. 
More details about this event
Please find more information on the detailed panels and topics discussed below. 
Panel I – Problems of Information Society and Information Security
Legal and organisational aspects of information security in the example of a large organisation – Tomasz Józefko- SIODO
Information as a public (un)awareness – Dr Hab. Hanna Batorowska,Military Academy
Panel II – Respect for fundamental rights and freedoms/dignity/person under data protection law
E-Information Storages on the example of digital devices – Piotr Kitela, SIODO
Concept of developing education with respect for rights and freedoms in structural terms [model] – Jarosław Feliński, SIODO
Panel III – Phenomenon to the detriment of the performance of Supervisor
Case study on the execution of ODO advisory tasks in the SFP – Bogdanna Krupinńska and Dawid Czerw,SIODO
Analysis and conclusions on the application of personal data protection rules in Poland – 2018/2023 – Daria Bartnicka, SIODO
Panel IV – Public aspects of awareness raising on data protection and cybersecurity
New qualifications for the security of digital solutions – Beata Ostrowska, Sectoral Board Competences – IT, eduTech Institute, Andrzej Gontarz, Sectoral Council for Competences – Computing 
Is it necessary to develop new cybersecurity education and competence development programmes? Recommendations for the development of cybersecurity competence developed by the European Union Agency for the European Union Agency for Cybersecurity (ENISA) and the US National Institute of Standards and Technology – NIST – Tomasz Klekowski – Sectoral Council Competences Telecommunications and Cybersecurit
Cybersecurity education in Polish schools – new implementation opportunities – Danuta Morańska, Wyższa Szkoła Humanitas, Upper Silesian Branch of the Polish IT Society
What is the legislative tsunami and why cybersecurity is in the wave – Dr. Rafał Prabucki, University of Silesia
The registration is available in the event page. 

Image credit
© SIODO
Event Details
Target audience
Digital skills in education.
Digital technology / specialisation
Geographic scope - Country
Industry - field of education and training
Generic programmes and qualifications not further defined
Geographical sphere
National initiative