Webinar: Digital Skills for Young Europeans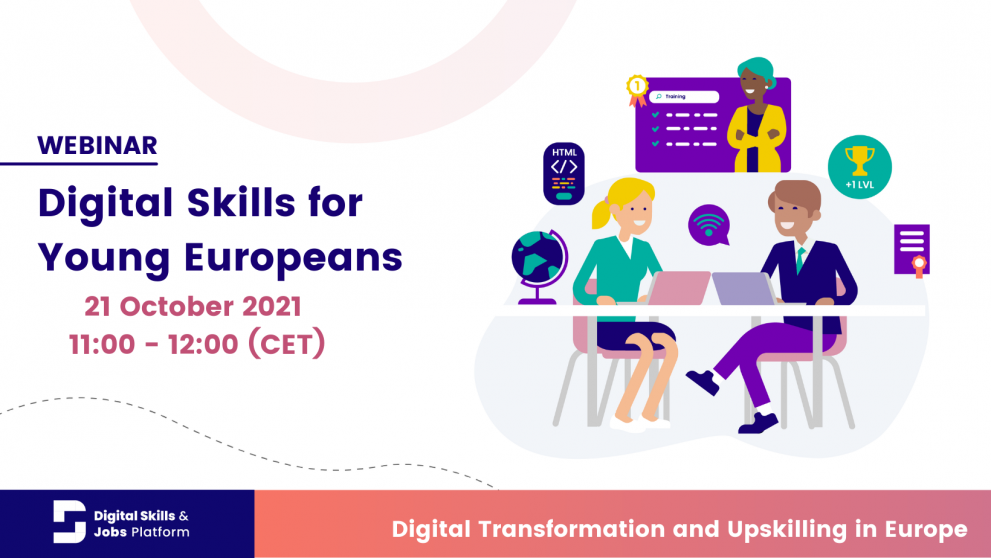 Although young people are often thought of as 'digital natives' who are able to freely navigate online and who possess all necessary digital skills, this is actually a misconception which is not yet adequately addressed. In contrast, the studies show that young people, 95% of whom access the Internet daily, do not inherently possess the skills for safe and effective use of digital technologies. Their engagement is usually limited to entertainment and communication, while only 13% of young people have engaged in programming activities, and just 10% have done an online course, on any subject. In addition, significant inequalities are reported among youngsters of minority backgrounds and their peers, as well as among boys and girls.
While the digital skills gap in Europe is still large, and the number of ICT graduates is way too low to fulfil a growing labour market demand, youth unemployment remains rather high across the EU. Lack of digital skills also greatly contributes to this trend. Therefore, the EC has set an ambitious goal to reduce the level of 13-14 year-olds who underperform in computing and digital literacy from 30% (2019) to 15% in 2030, while ensuring that at least 80% of the European population has basic digital skills.
Numerous organisations and individuals from the education sector, civil society, private sector, etc. are contributing to these goals across the EU, offering initiatives, resources and tools which support and enable youth digital upskilling. The EU Code Week and The European Cybersecurity Month are outstanding examples of such European-wide initiatives and in light of which, the European Digital Skills and Jobs Platform is organising a webinar to discuss what digital skills young Europeans actually need, and the available support tools and initiatives that could help to upskill them.
The webinar will take place on the Thursday 21 of October, 11 AM CEST.

Please REGISTER HERE to book your place at the Webinar and participate in the Online Discussion on the Platform after the event. 

The full event AGENDA is as following:
11:00-11:05 Opening and welcome
11:05-11:15 Introductory presentation: 'State-of-the-art: youth and digital skills gap in Europe'

Speaker:
Ms. Veronica Stefan, Founder of

Digital Citizens Romania

Think-Tank & European Project Manager at the Education and Youth Board of Estonia
11:20-11:55 Discussion Panel tackling digital skills needs for young Europeans
Speakers:
11:55-12:00 Conclusions & Closing
Speaker:
The event was recorded and you can watch it on Facebook and YouTube.
@ Digital Skills and Jobs Platform
Event Details
Digital technology / specialisation
Geographic scope - Country
Austria
Belgium
Bulgaria
Cyprus
Romania
Slovenia
Croatia
Czech republic
Denmark
Estonia
Finland
France
Germany
Greece
Hungary
Italy
Ireland
Malta
Latvia
Lithuania
Luxembourg
Netherlands
Portugal
Poland
Sweden
Spain
Slovakia
Industry - field of education and training
Information and Communication Technologies (ICTs) not further defined
Geographical sphere
EU institutional initiative