Women4IT: Shaping the future of digital
Event location
Av. d'Auderghem 22, 1040 Bruxelles, Belgium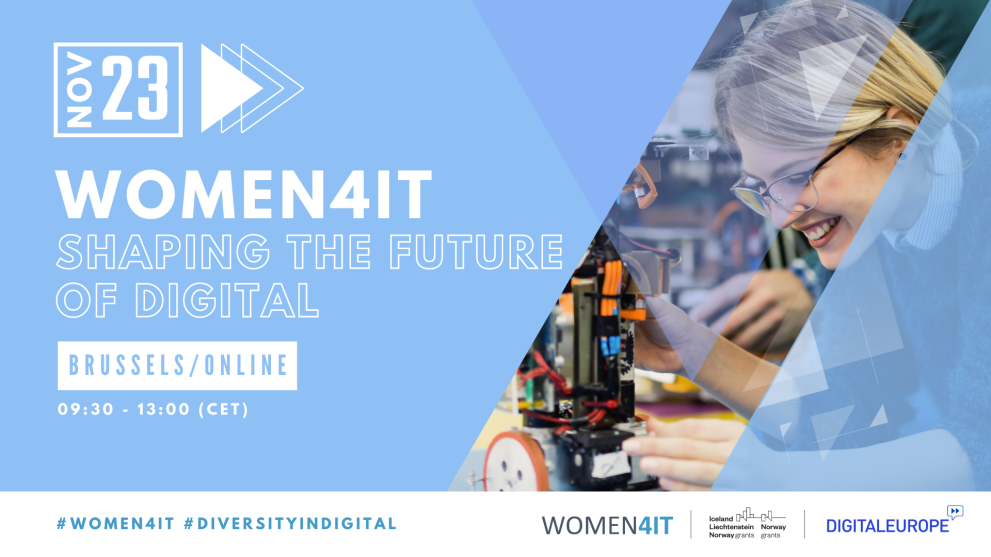 In an increasingly digitalised world, women continue to be underrepresented in STEM education and technology careers. Women4IT was created to change that.  
The upcoming event organised by Women4IT, entitled "Women4IT: Shaping the future of digital" will take place in Brussels and Online on November 23 from 9:30 AM to 1:00 PM.
The event will look back at the project's main achievements, good practices and lessons learnt, as well as hear first-hand from the Women4IT graduates about their experience and plans for a tech career. They will also review how the EU currently performs in terms of fostering gender diversity in STEM and discuss the next steps in boosting the impact of initiatives like Women4IT. 
Women4IT - an initiative financed by the EEA and Norway Grants' Fund for Youth Employment and supported by DIGITALEUROPE - aims to empower young women across Europe to become part of the digital economy. 
By providing fully funded, individually tailored digital skills training that reflects current market needs, they worked to equip women with a set of in-demand digital competencies and employability guidance, all to drive their career advancement and economic independence. In its pilot phase, the project has retrained +900 women across Europe as programmers, data analysts and other ICT roles vital to reaching the Digital Decade goals. 
Read the full agenda and register here.
© Women4IT
Event Details
Target audience
Digital skills for ICT professionals and other digital experts.
Digital skills in education.
Digital technology / specialisation
Geographic scope - Country
Austria
Belgium
Bulgaria
Cyprus
Romania
Slovenia
Croatia
Czech republic
Denmark
Estonia
Finland
France
Germany
Greece
Hungary
Italy
Ireland
Malta
Latvia
Lithuania
Luxembourg
Netherlands
Portugal
Poland
Sweden
Spain
Slovakia
Industry - field of education and training
Generic programmes and qualifications not further defined
Geographical sphere
EU institutional initiative