Launch of new content series on DSJP: digital skills overviews by country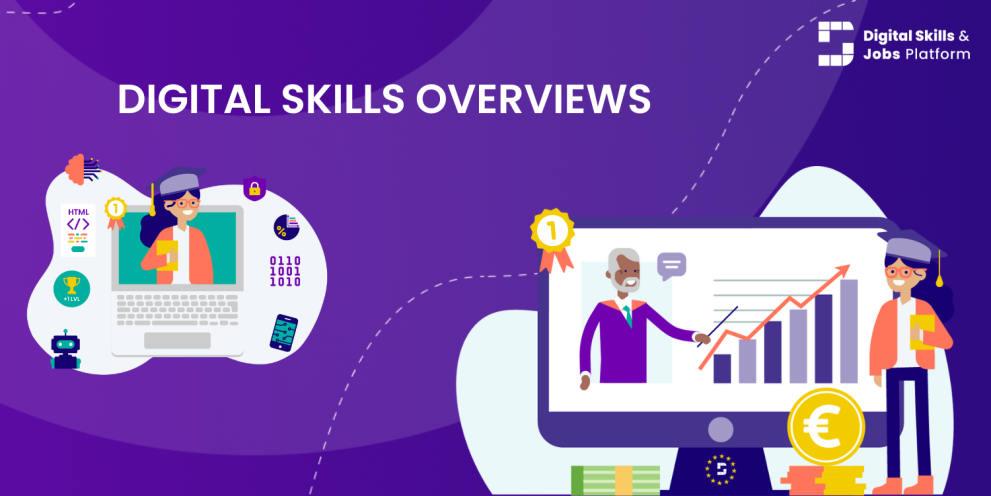 Since its launch in May 2021, the Digital Skills and Jobs Platform has made significant progress in establishing itself as the central hub for digital skills information in Europe, and a home to the European digital skills and jobs community. We have successfully consolidated the latest updates, events, training opportunities, and research on skills and digital competencies - but this is of course, far from the full picture. 
To dive in deeper into what digital skills look like on a national level, the Digital Skills and Jobs Platform is now launching a series of informative digital skills overviews that offer valuable insights into the digital landscape of various countries. Check the state-of-play of digital skills on the ground in each Member State, explore state strategies on skills and digitalisation, national initiatives, and funding opportunities.Divided into two sections, these snapshots will give you all you need to know to get a comprehensive understanding of digital skills and available funding within each featured country. 
A snapshot of Digital Skills
Get to know the latest strategic initiatives and blueprints on digital skills within each featured country. This section offers a valuable overview of the digital skills development landscape, including information on state and national strategies as well as funding opportunities. Moreover, it provides an insight into the National Recovery and Resilience Plans that aim to bridge the gap between the skills of today, and those of tomorrow, and support the twin green and digital transition.
Interested in the latest information on initiatives and opportunities related to digital skills in each country?This way you can stay on track with latest developments in this area - and get inspiration for your future activities that aim to bridge the digital skills gap in Europe. 
Available funding
The second section provides information on available funding opportunities for up- and re-skilling citizens, labour force, education, and even digital experts. It covers a wide range of funding sources, including recovery and resilience facilities and national funding programs. Whether you are an individual looking to upskill or a business seeking digital transformation, this section offers valuable insights into the financial support available to fuel your digital ambitions.
Find the main sources to upgrade the digital competencies of people, businesses, and organisations that exist in the form of loans, grants and financial instruments in each country.
What else can you expect to find? 
Explore our in-depth analysis of the plans and key actions countries are taking to promote basic and advanced digital skills: see how 20 EU countries score in the Digital Economy and Society Index (DESI) and its Human Capital dimension.
Track what your Member State is doing to help people get basic digital skills and increase the number of employed ICT professionals with advanced competences. Make your mark, share your thoughts, and see the actions your country is taking to make the next decade both digital and very European. 
Check them out!
Take a look at the first five country overviews here:
News details
Digital technology / specialisation
Geographic scope - Country
Austria
Belgium
Bulgaria
Cyprus
Romania
Slovenia
Croatia
Czech republic
Denmark
Estonia
Finland
France
Germany
Greece
Hungary
Italy
Ireland
Malta
Latvia
Lithuania
Luxembourg
Netherlands
Portugal
Poland
Sweden
Spain
Slovakia
Geographical sphere
National initiative