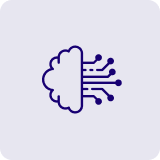 Artificial Intelligence (AI) refers to machine-based systems that can make predictions, recommendations, or decisions influencing real or virtual environments.
AI and Machine Learning are all around us, transforming the way we live and do business. AI holds the key to solving key societal challenges – be it in the area of climate change, or disease treatment. According to some estimates, the uptake of AI methods could add approximately €2.5 trillion to European GDP by 2030. The European Commission's latest 2022 AI Watch Index indicates that the EU investment in AI grew by 39% between 2018 and 2019, positioning the EU to exceed the target of €20 billion into AI during this decade.
The emergence of AI systems has created a high demand for skilled specialists, which leads to a need for reskilling and upskilling. With AI embedded in virtually all sectors of EU economy, demand for AI skills has exploded – a trend projected to increase further. Specialist AI skills are not only needed in the ICT field, but increasingly in all other sectors and domains. This technology is also changing the nature of our jobs and role of humans in the economy.
Europe has taken a number of steps to enhance AI's uptake, development and deployment: from the European AI Alliance, the European High-Level Group for Artificial Intelligence, AI Watch, to many upskilling courses and educational programmes. The European AI Strategy announced in 2021 will ensure that future AI systems are ethical and legal, reflecting core European values. Also, the AI Act proposed by the EU in 2021 classifies the specific uses of AI, introducing harmonised rules.
The Digital Europe Programme (DIGITAL) is investing in learning and training opportunities that will create new AI experts. The new Work Programmes for 2021-2022 set out part of the actions to be implemented in the first two years, outlining the objectives and specific topic areas that will receive a total of €1.98 billion in funding. Three calls within this first set tackle advanced digital skills, including AI.
The Digital Skills and Jobs Platform provides an overview of AI-related information: EU and national initiatives, resources, trainings, funding and career opportunities. Browse through the page to see more!
Also, don't miss the opportunity to explore your interest in AI in exchanges with your peers and digital experts across Europe by joining our Community.  
Check the most relevant content on Artificial Intelligence (AI)