Accessibilitech project: final conference
Event location
Rue Montoyer 51, 1000 Brussels, Belgium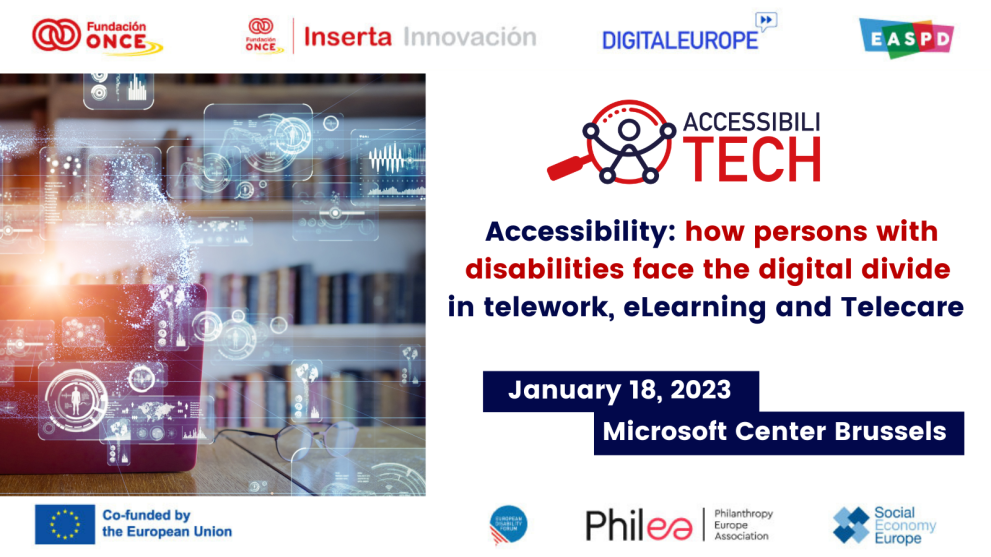 "Accessibility: how persons with disabilities face the digital divide in telework, eLearning and Telecare" is the final conference of the ACCESSIBILITECH project, an EU funded initiative on accessible and inclusive technologies for Telework, eLearning and online care services.
On January 18, the event in Brussels will focus on the importance of developing accessible and inclusive technologies in Telework, eLearning and online care services for everyone and raising awareness among European key actors (policy makers, technology persons with disabilities).
Three panels will showcase the main challenges and opportunities of the digital divide and skills for accessibility, how the digital transition can empower accessible technology, and an interactive panel/session on accessibility in telework, eLearning and Telecare.
During the event, the main results of the work carried out in the  ACCESSIBILITECH project will be also presented.
The event will have the participation of Inmaculada Placiencia Porrero, senior expert in Disability and Inclusion in the General Directorate of Employment, Social Affairs and Inclusion of the European Commission.
In addition, the panels will join relevant experts on policy and legislation, as Susanna Laurin (Funka), Alejandro Moledo (European Disability Forum) and accessible technology experts as Hector Minto (Microsoft), May Agius (Agenzija Sapport), Evert-Jan Hoogerwerf (WeCareMore Centre for Innovation and Research of AIAS Bologna onlus) and Lawrence Kernaki (Zoom Video Communications).
Full program and registration available here.
Event Details
Target audience
Digital skills for the labour force.
Digital skills for ICT professionals and other digital experts.
Digital skills in education.
Digital skills for all
Digital technology / specialisation
Geographic scope - Country
Austria
Belgium
Bulgaria
Cyprus
Romania
Slovenia
Croatia
Czech republic
Denmark
Estonia
Finland
France
Germany
Greece
Hungary
Italy
Ireland
Malta
Latvia
Lithuania
Luxembourg
Netherlands
Portugal
Poland
Sweden
Spain
Slovakia
Industry - field of education and training
Generic programmes and qualifications not further defined
Geographical sphere
International initiative