Africa-Europe D4D Hub Multi-Stakeholder Forum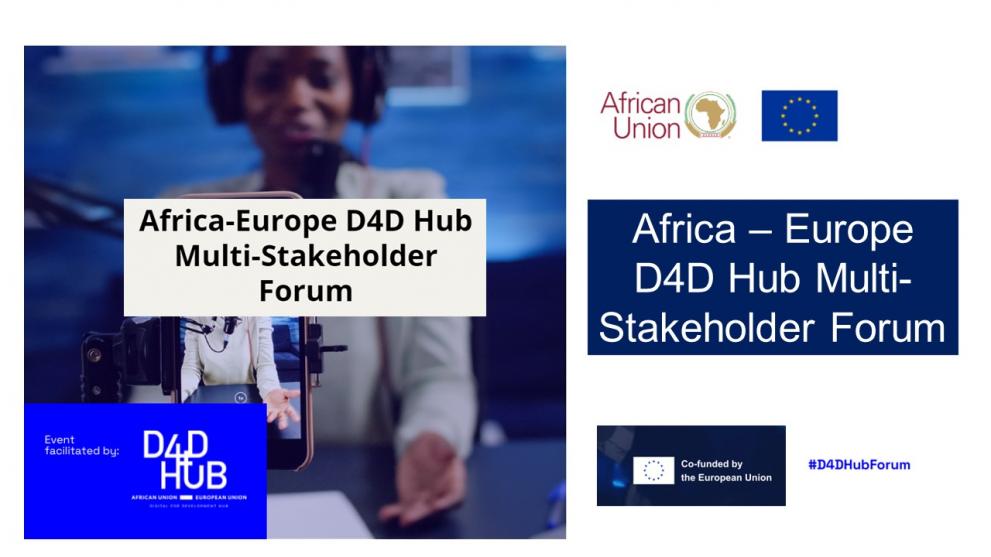 The Africa-Europe D4D Hub Multi-Stakeholder Forum 'Building a joint digital future' is an event, organised by the African Union in conjunction with the European Union. The event will take place on 10 February 2022, from 10:00 to 17:00 CET in an online format. 
The strategic forum brings together a wide range of stakeholders (private sector, governments, academia, civil society, etc), who will engage in an all-day discussion on EU-AU cooperation in digital, innovation and development, and how to build a digital economy on the African continent, which leaves no one behind.
The event is also an opportunity to follow the latest updates from both the African Union and the European institutions on trends, digital initiatives and programmes and take stock of projects and strategic actions that have contributed to a better future for all. 
The event will run under the hashtag #D4DHubForum. 
Ahead of the event, organisers have launched a survey for interested individuals and organisations, which can be accessed here. 
Event Details
Target audience
Digital skills for the labour force.
Digital skills for ICT professionals and other digital experts.
Digital skills in education.
Digital skills for all
Digital technology / specialisation
Geographic scope - Country
Austria
Belgium
Bulgaria
Cyprus
Romania
Slovenia
Croatia
Czech republic
Denmark
Estonia
Finland
France
Germany
Greece
Hungary
Italy
Ireland
Malta
Latvia
Lithuania
Luxembourg
Netherlands
Portugal
Poland
Sweden
Spain
Slovakia
Albania
Belarus
Bosnia and Herzegovina
Canada
Iceland
Israel
Japan
Kosovo
Montenegro
Morocco
North Macedonia
Norway
Serbia
Switzerland
South Korea
Russia
Tunisia
Turkey
Ukraine
United Kingdom
USA
Industry - field of education and training
Personal skills and development
Economics
Information and Communication Technologies (ICTs) not further defined
Geographical sphere
International initiative