The Culture of Trustworthy AI: Workshop
Event location
Island of San Servolo, 30100 Venice VE, Italy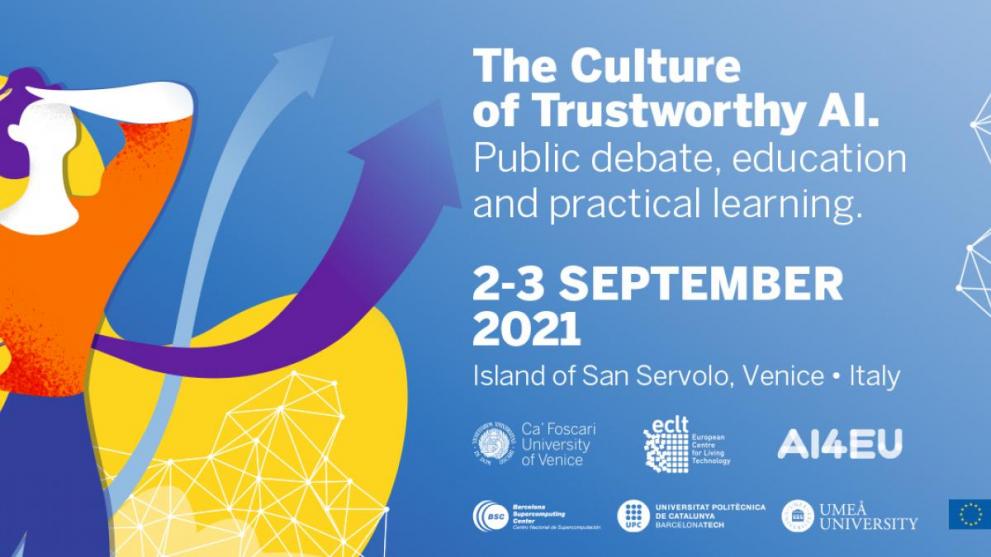 Culture of Trustworthy AI. Public debate, education, practical learning is a 2 day workshop organised as part of the AI4EU project, and will give the opportunity to share the results achieved by the AI4EU working groups on Ethical, Legal, Social, Economic and Cultural issues of AI (ELSEC AI). Launched at the end of 2020, the working groups are semi-organised groups bringing together people from different backgrounds and sectors to collaborate on ELSEC AI with a genuine multidisciplinary spirit.
The workshop will take place in Venice at the Venice International University on 2 and 3 September 2021 (and will be also streamed online), and will host a mix of invited and contributed presentations, as well as panel discussions, and is open to scholars and practitioners working on Trustworthy and Responsible AI.
 
Developing a Trustworthy AI culture      
The development of a Trustworthy AI culture poses several challenges to the whole AI ecosystem. The first issue regards how to create meaningful discussions involving different experts but also citizens and people with limited knowledge about AI and its wider implications (public debate). A second problem connects to the equipment needed to help future generations cope with the social and economic changes generated by AI and data-intensive applications (education). Finally, a third important issue relates to the capacity of AI actors to become familiar with principles, rules and the plethora of methodologies supporting ethical, legal and robust AI (practical learning).
This workshop will try to explore how we can get closer to a Trustworthy AI culture sharing investigations and good practices moving along the trajectories suggested by Trustworthy AI guidelines: public debate, education and practical learning.
Registration is free of charge.
© AI4EU
Event Details
Target audience
Digital skills for ICT professionals and other digital experts.
Digital skills in education.
Digital technology / specialisation
Geographic scope - Country
Austria
Belgium
Bulgaria
Cyprus
Romania
Slovenia
Croatia
Czech republic
Denmark
Estonia
Finland
France
Germany
Greece
Hungary
Italy
Ireland
Malta
Latvia
Lithuania
Luxembourg
Netherlands
Portugal
Poland
Sweden
Spain
Slovakia
Industry - field of education and training
Generic programmes and qualifications not further defined
Geographical sphere
International initiative