Decoding the Digital Future: Quantum Computing: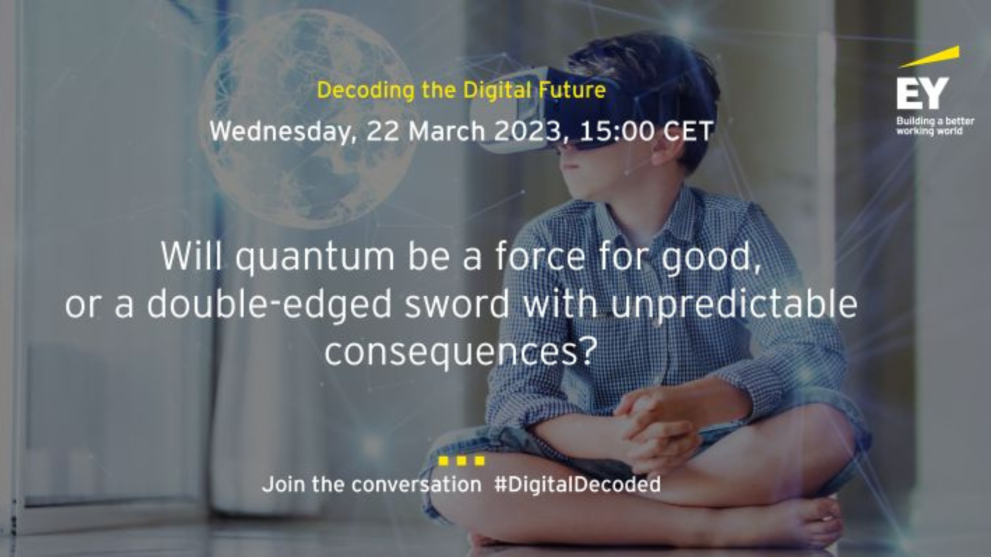 EY's EU Public Policy Hub organises the second event of their new series on Decoding the Digital Future, where EY public policy leaders and technology experts join forces to help decode how today's disruptive technologies are shaping the digital future for innovators, citizens and consumers, and policymakers alike. The session on 22 March will be around the topic: Quantum Computing: revolutionizing the present and shaping the future.
This webcast will also delve deeper into the ethics and wider governance questions around quantum and its real life applications, evolving skill sets needed to succeed, and how to prepare for a sustainable quantum future.
You will find the full program and link to register in the event registration page.
Event Details
Target audience
Digital skills for the labour force.
Digital skills for ICT professionals and other digital experts.
Digital technology / specialisation
Geographic scope - Country
Austria
Belgium
Bulgaria
Cyprus
Romania
Slovenia
Croatia
Czech republic
Denmark
Estonia
Finland
France
Germany
Greece
Hungary
Italy
Ireland
Malta
Latvia
Lithuania
Luxembourg
Netherlands
Portugal
Poland
Sweden
Spain
Slovakia
Industry - field of education and training
Generic programmes and qualifications not further defined
Geographical sphere
International initiative